McLaren F1 driver Jenson Button hits back at Ron Dennis's criticism
| | |
| --- | --- |
| By Jonathan Noble | Thursday, July 3rd 2014, 15:02 GMT |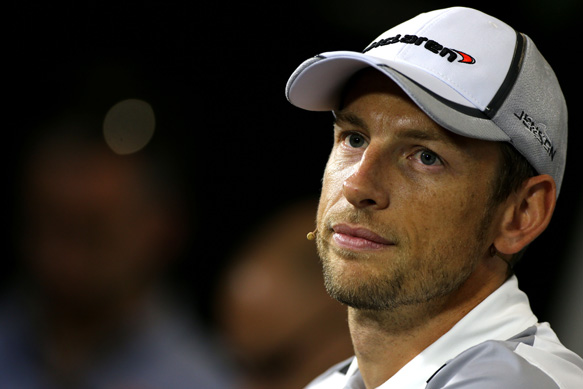 McLaren Formula 1 driver Jenson Button has hit back at claims from Ron Dennis that he needs to try harder.
Dennis, the group CEO of McLaren, suggested last week in an interview that as a former champion Button should be working harder to avoid getting beaten by rookie team-mate Kevin Magnussen.
But when asked about those comments on Thursday, Button suggested it was wrong of Dennis to single him out for criticism at a time when the team is struggling for competitiveness.
"I think Ron is practising to be a motivational speaker maybe," said Button.
"I think when we are in the position we have been in for 18 months, it is not easy. And for anyone in the team it is very difficult.
"We all need to work harder as a team. I don't think we should be pointing the finger at any individual.
"We have got our way into this situation and we have to fight our way out. I don't do things in half measures.
"I have the experience to know you have to give 100 per cent and I always do - in the paddock, at the factory, on the phone to the engineers. Everything is 100 per cent."
Dennis's comments about Button were made to Sky Sports ahead of the British Grand Prix.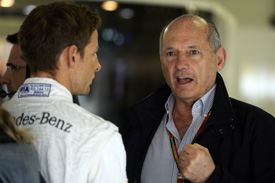 Speaking about McLaren's current driver line-up, he said: "I'm happy with the drivers in the sense I think they are giving their best.
"I'm sure Kevin is giving a big wake-up call to Jenson. In some ways you say: 'Great, we've made a great choice with Kevin.'
"But in other ways you say: 'Come on Jenson, you are a world champion and absolutely one thing you can do on a consistent basis – and you should be doing it – is beating your team-mate.'
"Do I want him to try harder? Of course I do. He's a highly paid grand prix driver."
Dennis's comments served to cast doubt on Button's chances of staying with the team next year, but the 2009 world champion insisted he was not thinking about plans for 2015 yet.
"We will see," Button said. "For me right now, it is about doing the best job I can. The whole team are working every day to do a better job.
"We are not where we want to be, not where McLaren is used to being. We know that, we are working very hard – but in terms of the future it is something I cannot discuss right now."