Peugeot begins testing 2008 DKR Dakar Rally car
| | |
| --- | --- |
| By David Evans | Thursday, July 3rd 2014, 09:16 GMT |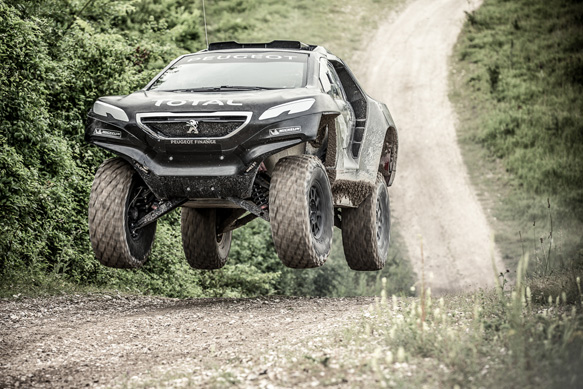 Peugeot Sport has begun testing the 2008 DKR - the car that will return the marque to the Dakar Rally 25 years after its last victory in the desert.
The car, which runs in a rear-wheel drive rather than four-wheel drive configuration, has been running in central France with Carlos Sainz behind the wheel.
The Velizy-based team has revealed further details of the 2008 DKR, with Peugeot Sport director Bruno Famin explaining the thinking behind shunning the transmission set-up that has won the last 13 Dakars. Jean-Louis Schlesser was the last man to win in a two-wheel drive car, his own Schlesser Buggy, in 2000.
Famin said: "When it comes to cross-country rallying, the biggest question is whether to run with four-wheel drive or just two.
"After a detailed study of the question, we decided to go for two-wheel drive transmission which presents a number of interesting benefits."
Peugeot's technical project manager Jean-Christophe Pallier said the benefits of two-wheel drive went beyond just the technical details; the use of automatic tyre deflation and re-inflation, necessary to offer addition traction in the dunes, is an advantage proffered to two-wheel drive runners.
"Two-wheel drive cars are allowed to be significantly lighter than 4x4s," he said.
"They are also entitled to use bigger wheels, which provide a certain advantage when it comes to coping with the many pitfalls associated with this type of terrain. On top of that, they allow us to minimise the front overhang. The 2008 DKR can practically climb vertical walls!
"And that's not all: longer suspension travel - 460mm instead of 250mm - enhances its ability over dunes and when soaking up uneven ground. That's a key asset on an event like the Dakar."
The 2008 DKR will be powered by a mid-rear-mounted V6 twin-turbo diesel engine offering 340bhp.
Peugeot has hired Stephane Peterhansel, Sainz and Cyril Despres for its Dakar programme.