Red Bull Formula 1 team insists it has to have works engine deal
| | |
| --- | --- |
| By Ben Anderson and Jonathan Noble | Wednesday, July 2nd 2014, 15:22 GMT |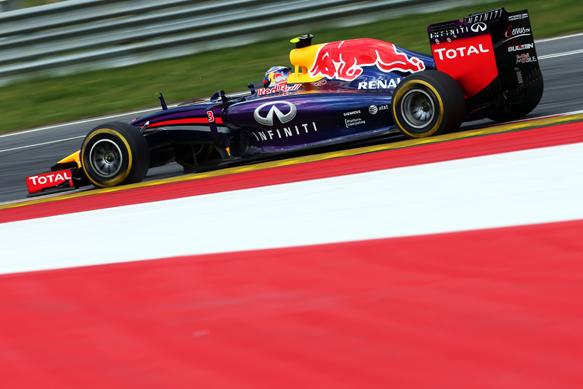 Red Bull has ruled out switching to any of Renault's rival Formula 1 engine manufacturers because it believes its chances will be limited if it becomes a mere customer team.
Amid frustrations with current partner Renault, Red Bull is doing all it can to try to ensure that next year's engine is a big step forward over the current power unit.
But, having dropped a clear hint that Renault must make progress in 2015 if they are to stay together, there has been speculation about what Red Bull may do if the situation does not improve.
And while Red Bull has already ruled out building its own engine, team boss Christian Horner has made clear that the outfit will also not accept being a customer.
"Ferrari and Mercedes have their own teams, so where are you going to be in the pecking order if you're a customer?" said Horner during a Red Bull event ahead of the British Grand Prix.
"Whereas the relationship we have with the Renault-Nissan alliance, when it works, works tremendously well.
"The problem is, under a big regulation change, obviously Renault has missed the target. But they're working very hard to catch up."
Red Bull and Renault have agreed a plan for an F1 recovery, and Horner insists that his team has not given up on staying with Renault for the longer term - especially with there being no realistic option with Mercedes or Ferrari.
"I'd be very surprised if Mercedes were prepared to give us an engine," he said. "Ferrari has a customer programme but we want to work as a works partner. That, for the longer term, offers us the best chance of success.
"We've enjoyed a huge amount of success with Renault. We've won nearly 50 grands prix and eight world championships during the last four years with them, so nobody's giving up on anything. It's just where they currently are is not right."
When asked what his options were if Renault did not improve, Horner said: "The thing about a team like Red Bull is we always have options, and I'm not going to disclose what they are here.
"We want to run at the front, we want to be competitive, and in order to be competitive we have to have a sensible power unit."