Norisring DTM: Jamie Green says hitting Paul di Resta a 'nightmare'
| | |
| --- | --- |
| By Andrew van Leeuwen | Monday, June 30th 2014, 10:39 GMT |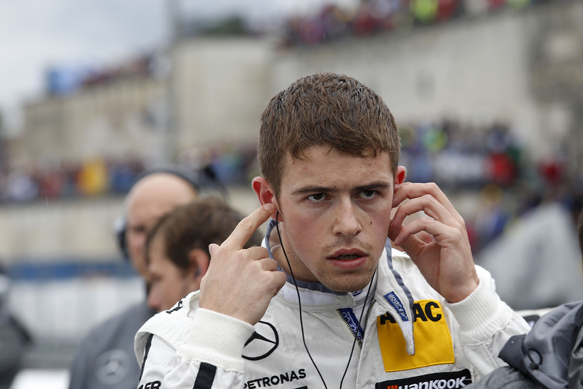 Jamie Green says it was his own "misjudgement" that sparked contact between he and his good friend Paul di Resta at the start of the Norisring DTM race.
The Brits qualified second and third, with di Resta leading Green as the rain-affected race was due to go green after being started behind the safety car.
But as the field filed through the final corner before the start, Green tagged the back of di Resta's car, sending the Mercedes driver into a slow-motion spin that effectively ruined his chances of a podium.
Green, who went on to finish second despite receiving a five-second stop/go penalty for the clash, later accepted blame.
"I had an incident with Paul, which is a nightmare because we're good mates," Green said.
"We're friends away from the track, we spend time together training and stuff. To have an incident on track isn't nice at all.
"Obviously it was a misjudgement from my point of view. I was a bit surprised at the way he went wide on the corner and then cut back. I was already on the inside, and he came very tight on the exit.
"The contact was very, very light, but just at that point where he is turning and picking up the throttle. He went across the front of me in slow motion.
"Clearly I need to apologise. I didn't do that on purpose - you can't overtake until the start/finish line anyway - but I was trying to get nice and close for the start. I was a bit surprised by his apex speed and line. That's what happened."
While di Resta acknowledged that Green had admitted blame, the Scot was still disappointed with the situation post-race.
"Jamie's one of my best friends. It's hard. We train each day together and live very close to each other," said di Resta.
"It's going to be a hard one. He's wasted the best opportunity I'm probably going to get all year - a chance of winning a race or being on the podium, given the car that we had. The race hadn't even started yet. We were still 400 metres away from the startline.
"People can see what happened. At least Jamie can stick his hand up for it. But when you see that he's finished second and not lost anything out of it, that's the thing that bothers me."