Croft BTCC: Colin Turkington doubles up in race two
| | |
| --- | --- |
| By Kevin Turner | Sunday, June 29th 2014, 14:21 GMT |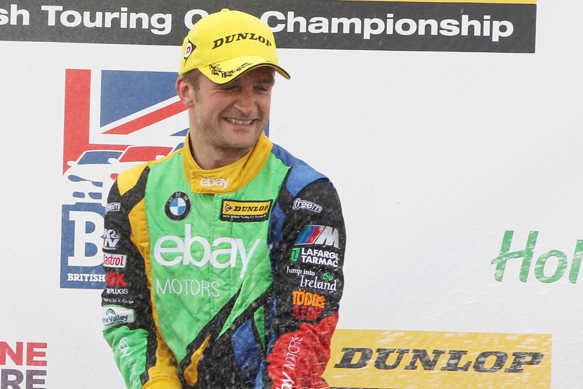 Colin Turkington continued his fine form by taking his second British Touring Car victory of the weekend at Croft.

Unlike in race one, however, the WSR BMW was not able to immediately run away from the field.

Gordon Shedden's Honda Civic Tourer stayed close for the first half of the race but gradually fell away and crossed the line 6.2 seconds behind his championship rival.

Matt Neal starred as he charged to a podium finish despite completing the first lap in sixth.

The Honda driver made it past Andrew Jordan's Eurotech Honda, then dived by the struggling Triple Eight MG of Jason Plato at Sunny.

He headed off after Rob Collard's BMW in third, making it by with less than five laps to go.

Neal closed on his success ballast-laden team-mate, but still finished 2.6s behind Shedden.

Behind a lonely Jordan in fifth, Plato crossed the line in sixth, but he secured it in controversial style.

After holding a group of cars behind him for a number of laps, Plato had lost out to Neal and Jordan.

He and the BMR VW of Alain Menu eventually broke away from the pack and engaged in a duel for sixth.

On the penultimate lap, Menu made a move down the inside into Clervaux. He appeared to make it by, but the VW's rear was clipped by the MG as Plato turned in, sending Menu into the barriers and out of the race.

Mat Jackson continued his good race form by coming through to seventh, while Tom Ingram took his Speedworks Toyota Avensis through to eighth on the soft Dunlop tyre.

Adam Morgan also impressed, coming through to finish 12th after starting on the 15th row.
Results - 15 laps:                                     
                                                       
Pos Driver               Team/Car              Time/Gap
 1. Colin Turkington     WSR BMW             21m32.413s
 2. Gordon Shedden       Honda                  +6.243s
 3. Matt Neal            Honda                  +8.855s
 4. Rob Collard          WSR BMW               +10.430s
 5. Andrew Jordan        Eurotech Honda        +18.455s
 6. Jason Plato          MG                    +23.220s
 7. Mat Jackson          Motorbase Ford        +24.716s
 8. Sam Tordoff          MG                    +27.835s
 9. Tom Ingram           Speedworks Toyota     +30.011s
10. Fabrizio Giovanardi  Motorbase Ford        +31.998s
11. Jack Goff            BMR Vauxhall          +32.864s
12. Adam Morgan          Ciceley Mercedes      +33.801s
13. Jack Clarke          Motorbase Ford        +34.426s
14. Nick Foster          WSR BMW               +34.608s
15. Aron Smith           BMR VW                +42.553s
16. Marc Hynes           MG                    +42.564s
17. Lea Wood             Houseman Toyota       +43.105s
18. Martin Depper        Eurotech Honda        +43.745s
19. James Cole           UA Toyota             +50.475s
20. Ollie Jackson        Welch Proton          +54.167s
21. Robb Holland         Rotek Audi          +1m07.351s
22. Dan Welch            Welch Proton        +1m08.516s
23. Simon Belcher        Handy Toyota            -1 lap
24. Glynn Geddie         UA Toyota              -2 laps
                                                       
Retirements:                                           
                                                       
    Alain Menu           BMR VW                 13 laps
    Warren Scott         BMR Vauxhall            8 laps
    Hunter Abbott        RAR Audi                5 laps
    Dave Newsham         AmD Ford                2 laps
    Rob Austin           RAR Audi                0 laps
    Aiden Moffat         Moffat Chevrolet        0 laps