BTCC Croft: Sam Tordoff fastest in free practice
| | |
| --- | --- |
| By Kevin Turner | Saturday, June 28th 2014, 12:13 GMT |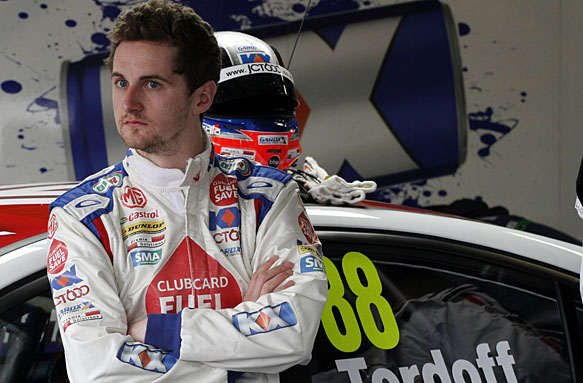 Sam Tordoff topped the British Touring Car field after two disjointed free practice sessions at Croft.
Tordoff's Triple Eight MG had just recorded two times good enough to lead the way in the second session when Rob Austin's Audi crashed at Clervaux and brought an early end to the session.
The MG's best of 1m24.115s is more than 0.3s faster than Colin Turkington's 2013 pole time.
Reigning champion Andrew Jordan was second, having been quickest for much of the second, faster, session in his Eurotech Honda Civic with an early run of 1m24.390s.
Turkington had led the way in the first session, which had been affected by both a red flag (to retrieve Aiden Moffatt's Chevrolet) and rain, with 1m24.498s.
The WSR BMW driver failed to improve in the afternoon session, but his earlier time was good enough to put him third overall.
Third in the second session, and fourth overall, was Adam Morgan's Ciceley Mercedes. The A-class was competitive in both sessions and ended up with a best of 1m24.763s.
Fifth was the ever-improving United Autosports Toyota Avensis of former British GT champion Glynn Geddie, while Austin rounded out the top six despite his crash.
Gordon Shedden (works Honda Civic Tourer), Alain Menu (BMR VW CC) and Martin Depper (Eurotech Civic) were next, and Dave Newsham rounded out the top 10 with the AmD Ford Focus, which has an upgraded front-end this weekend.

Former double champion Jason Plato's running was limited by "something underneath" his MG6, but he expects the car to be fine for qualifying.
Practice 1                                                             
                                                                       
Pos Driver               Car                   Time       Gap     Laps 
 1. Colin Turkington     WSR BMW               1m24.498s           11  
 2. Andrew Jordan        Eurotech Honda        1m25.003s  +0.505s  11  
 3. Adam Morgan          Ciceley Mercedes      1m25.561s  +1.063s  11  
 4. Nick Foster          WSR BMW               1m25.843s  +1.345s  11  
 5. Jason Plato          MG                    1m25.860s  +1.362s  12  
 6. Sam Tordoff          MG                    1m25.875s  +1.377s  10  
 7. Glynn Geddie         UA Toyota             1m26.371s  +1.873s  16  
 8. Tom Ingram           Speedworks Toyota     1m26.410s  +1.912s  15  
 9. Matt Neal            Honda                 1m26.417s  +1.919s  9   
10. Alain Menu           BMW VW                1m26.448s  +1.950s  7   
11. Martin Depper        Eurotech Honda        1m26.523s  +2.025s  7   
12. Mat Jackson          Motorbase Ford        1m26.548s  +2.050s  13  
13. Hunter Abbott        RAR Audi              1m26.629s  +2.131s  15  
14. Aron Smith           BMW VW                1m26.888s  +2.390s  18  
15. Gordon Shedden       Honda                 1m26.914s  +2.416s  9   
16. Dave Newsham         AmD Ford              1m27.332s  +2.834s  15  
17. Dan Welch            Welch Proton          1m27.615s  +3.117s  17  
18. Jack Goff            BMR Vauxhall          1m28.249s  +3.751s  12  
19. Ollie Jackson        Welch Proton          1m28.370s  +3.872s  17  
20. Rob Collard          WSR BMW               1m28.620s  +4.122s  9   
21. Warren Scott         BMR Vauxhall          1m28.687s  +4.189s  13  
22. Chris Stockton       BTC Chevrolet         1m28.885s  +4.387s  18  
23. Rob Austin           RAR Audi              1m29.875s  +5.377s  4   
24. Robb Holland         Rotek Audi            1m30.548s  +6.050s  15  
25. Lea Wood             Houseman Toyota       1m30.914s  +6.416s  14  
26. Marc Hynes           MG                    1m31.083s  +6.585s  14  
27. Fabrizio Giovanardi  Motorbase Ford        1m31.794s  +7.296s  9   
28. James Cole           UA Toyota             1m35.819s  +11.321s 13  
29. Jack Clarke          Motorbase Ford        1m36.185s  +11.687s 13  
30. Simon Belcher        Handy Toyota          1m39.267s  +14.769s 13  
31. Aiden Moffat         Moffat Chevrolet      No time set         0   
                                                                       
Practice 2                                                             
                                                                       
Pos Driver               Car                   Time       Gap     Laps 
 1. Sam Tordoff          MG                    1m24.115s           13  
 2. Andrew Jordan        Eurotech Honda        1m24.390s  +0.275s  12  
 3. Adam Morgan          Ciceley Mercedes      1m24.763s  +0.648s  13  
 4. Colin Turkington     WSR BMW               1m24.832s  +0.717s  10  
 5. Glynn Geddie         UA Toyota             1m24.846s  +0.731s  13  
 6. Rob Austin           RAR Audi              1m25.045s  +0.930s  10  
 7. Gordon Shedden       Honda                 1m25.046s  +0.931s  10  
 8. Alain Menu           BMW VW                1m25.139s  +1.024s  11  
 9. Martin Depper        Eurotech Honda        1m25.142s  +1.027s  12  
10. Dave Newsham         AmD Ford              1m25.185s  +1.070s  10  
11. Aron Smith           BMW VW                1m25.361s  +1.246s  13  
12. Matt Neal            Honda                 1m25.389s  +1.274s  13  
13. Rob Collard          WSR BMW               1m25.450s  +1.335s  11  
14. Warren Scott         BMR Vauxhall          1m25.599s  +1.484s  14  
15. James Cole           UA Toyota             1m25.628s  +1.513s  12  
16. Fabrizio Giovanardi  Motorbase Ford        1m25.689s  +1.574s  12  
17. Nick Foster          WSR BMW               1m25.738s  +1.623s  11  
18. Jack Goff            BMR Vauxhall          1m25.863s  +1.748s  13  
19. Tom Ingram           Speedworks Toyota     1m26.098s  +1.983s  11  
20. Hunter Abbott        RAR Audi              1m26.237s  +2.122s  11  
21. Mat Jackson          Motorbase Ford        1m26.310s  +2.195s  11  
22. Lea Wood             Houseman Toyota       1m26.343s  +2.228s  14  
23. Marc Hynes           MG                    1m26.872s  +2.757s  15  
24. Jack Clarke          Motorbase Ford        1m27.186s  +3.071s  15  
25. Ollie Jackson        Welch Proton          1m27.293s  +3.178s  9   
26. Dan Welch            Welch Proton          1m27.865s  +3.750s  12  
27. Chris Stockton       BTC Chevrolet         1m27.652s  +3.537s  5   
28. Simon Belcher        Handy Toyota          1m82.448s  +4.333s  13  
29. Robb Holland         Rotek Audi            1m28.526s  +4.411s  14  
30. Aiden Moffat         Moffat Chevrolet      1m34.354s  +10.593s 5   
31. Jason Plato          MG                    No time set         5