Le Mans 24 Hours: Toyota driver Alex Wurz pulls away from #2 Audi
| | |
| --- | --- |
| | Saturday, June 14th 2014, 23:03 GMT |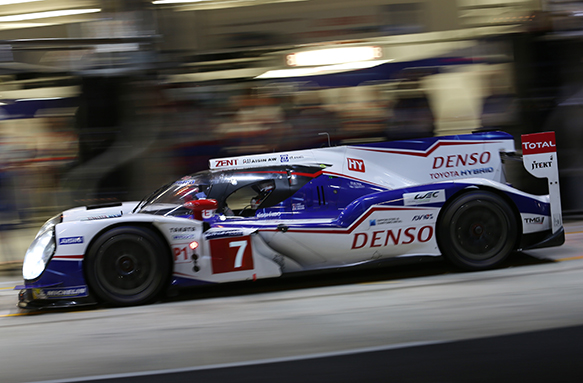 Toyota's lead in the Le Mans 24 Hours grew to its biggest margin yet during the 10th hour of the race.
After Marcel Fassler and Marc Gene pushed hard during their stints to keep the leading Toyota of Alexander Wurz on its toes, driver changes in both Audis allowed Wurz to extend his lead during the most recent round of stops.
Andre Lotterer took over the second-placed #2 car, while Tom Kristensen replaced Gene in the #1.
Behind the Audis, the two Porsche 919 Hybrids continued to circulate in the top five, Mark Webber opening his Le Mans account with a quadruple stint before handing back to Timo Bernhard.
Alex Brundle leads the LMP2 class having taken over the #35 G-Drive-backed OAK Ligier from Jann Mardenborough, who gradually built up the car's lead during a strong series of stints.
Nelson Panciatici runs second in the #36 Signatech Alpine ORECA, with the #34 Race Performance ORECA third in what is proving to be a tense battle behind the leader.
The #46 TDS Ligier has run strongly in the top four, but was forced to serve a 35-second stop/go penalty for speeding in the pits.
But while OAK is enjoying success with its Ligier, the #26 OAK-run G-Drive Morgan is now over 20 laps down having stopped out on track.
Aston Martin still leads both GTE classes, but it is a different Vantage at the head of the Am division after the long-time leader hit mechanical problems.
In the Pro element, Stefan Mucke fought off a mid-hour charge from Gianmaria Bruni to maintain a comfortable advantage, with Tommy Milner's Corvette assuming the role of chief pusuer when Bruni pit early and Tony Vilander took over.
They swapped positions at the end of the hour when Milner pit, but Mucke continued to hold a huge, if slightly misleading, gap of a minute and a half.
It's the #95 Aston that leads the GTE Am clas, with Kristian Poulsen now heading the #72 SMP Ferrari after the #98 Aston Martin, which had led since the third hour, developed a power steering issue.
POSITIONS AFTER 10 HOURS

Pos Cl       Car       Drivers                             Laps  Gap
 1. LMP1 #7  Toyota    Wurz/Sarrazin/Nakajima              154  
 2. LMP1 #2  Audi      Fassler/Lotterer/Treluyer           153  +      1 Lap
 3. LMP1 #1  Audi      Di Grassi/Gene/Kristensen           153  +  1m22.668s
 4. LMP1 #20 Porsche   Bernhard/Webber/Hartley             151  +     3 Laps
 5. LMP1 #14 Porsche   Dumas/Jani/Lieb                     148  +     6 Laps
 6. LMP1 #12 Rebellion Prost/Heidfeld/Beche                143  +    11 Laps
 7. LMP1 #8  Toyota    Davidson/Lapierre/Buemi             142  +    12 Laps
 8. LMP2 #35 Ligier    Brundle/Mardenborough/Shulzhitskiy  142  +    23.321s
 9. LMP2 #36 Alpine    Chatin/Panciatici/Webb              142  +  2m17.970s
10. LMP2 #34 Oreca     Frey/Mailleux/Lancaster             142  +  2m54.329s
11. LMP2 #46 Ligier    Thiriet/Badey/Gommendy              141  +    13 Laps
12. LMP2 #38 Zytek     Dolan/Tincknell/Turvey              141  +  2m59.325s
13. LMP2 #43 Morgan    Klien/Hirsch/Brandela               139  +    15 Laps
14. LMP2 #24 Oreca     Rast/Charouz/Capillaire             139  +  1m07.628s
15. LMP2 #33 Ligier    Cheng/Tung/Fong                     138  +    16 Laps
16. GTEP #97 Aston     Turner/Mucke/Senna                  136  +    18 Laps
17. GTEP #74 Chevrolet Gavin/Milner/Westbrook              135  +    19 Laps
18. GTEP #51 Ferrari   Bruni/Vilander/Fisichella           135  +    50.942s
19. GTEP #92 Porsche   Holzer/Makowiecki/Lietz             135  +  1m36.300s
20. LMP2 #29 Morgan    Schell/Leutwiller/Roussel           135  +  3m25.693s
21. GTEP #73 Chevrolet Magnussen/Garcia/Taylor             134  +    20 Laps
22. GTEA #95 Aston     Poulsen/Heinemeier-Hansson/Thiim    134  +     4.665s
23. GTEA #72 Ferrari   Bertolini/Shaitar/Basov             133  +    21 Laps
24. LMP2 #42 Zytek     Kimber-Smith/McMurry/Dyson          133  +  1m13.373s
25. GTEA #88 Porsche   Ried/Bachler/Al Qubaisi             133  +  3m47.692s
26. GTEA #61 Ferrari   Perez-Companc/Cioci/Venturi         132  +    22 Laps
27. GTEA #90 Ferrari   Montecalvo/Roda/Ruberti             132  +  1m20.364s
28. GTEA #77 Porsche   Dempsey/Foster/Long                 131  +    23 Laps
29. GTEA #57 Ferrari   Krohn/Jonsson/Collins               131  +    24.715s
30. LMP2 #50 Morgan    Ragues/Taylor/Ihara                 131  +    25.308s
31. GTEA #70 Ferrari   Nakano/Ehret/Rich                   130  +    24 Laps
32. LMP2 #27 Oreca     Zlobin/Salo/Ladygin                 130  +  1m55.474s
33. GTEA #75 Porsche   Perrodo/Collard/Palttala            130  +  3m52.931s
34. GTEA #98 Aston     Dalla Lana/Lamy/Nygaard             129  +    25 Laps
35. GTEA #58 Ferrari   Barthez/Pons/Ayari                  129  + 19m40.840s
36. GTEA #67 Porsche   Maris/Merlin/Helary                 129  + 20m53.067s
37. GTEA #76 Porsche   Narac/Armindo/Hallyday              129  + 21m23.417s
38. GTEA #66 Ferrari   Al Faisal/Neiman/Pumpelly           129  + 22m05.458s
39. GTEP #79 Porsche   MacNeil/Curtis/Bleekemolen          125  +    29 Laps
40. LMP2 #26 Morgan    Rusinov/Pla/Canal                   120  +    34 Laps
41. GTEP #91 Porsche   Pilet/Bergmeister/Tandy             120  + 16m53.133s
42. GTEA #53 Ferrari   Mowlem/Patterson/Hamilton           120  + 23m45.889s
43. GTEA #62 Ferrari   Mallegol/Bachelier/Blank            110  +    44 Laps
44. GTEP #52 Ferrari   Griffin/Parente/Leo                 107  +    47 Laps
45. GTEA #60 Ferrari   Mann/Case/Giammaria                 115  Retired
46. LMP2 #47 Oreca     Howson/Bradley/Imperatori           87   Retired
47. LMP1 #13 Rebellion Kraihamer/Belicchi/Leimer           73   Retired
48. LMP2 #48 Oreca     Berthon/Gonzalez/Chandhok           73   Retired
49. LMP2 #41 Zytek     Munemman/Latif/Winslow              31   Retired
50. GTEP #71 Ferrari   Rigon/Kaffer/Beretta                28   Retired
51. LMP1 #3  Audi      Albuquerque/Bonanomi/Jarvis         25   Retired
52. GTEA #81 Ferrari   Wyatt/Rugolo/Bird                   22   Retired
53. LMP2 #37 Oreca     Ladygin/Minassian/Mediani           9    Retired
54. CDNT #0  Nissan    Ordonez/Reip/Motoyama               5    Retired