Massa thinks pit blunder cost Williams F1 team victory in Canada
| | |
| --- | --- |
| By Ben Anderson | Tuesday, June 10th 2014, 10:04 GMT |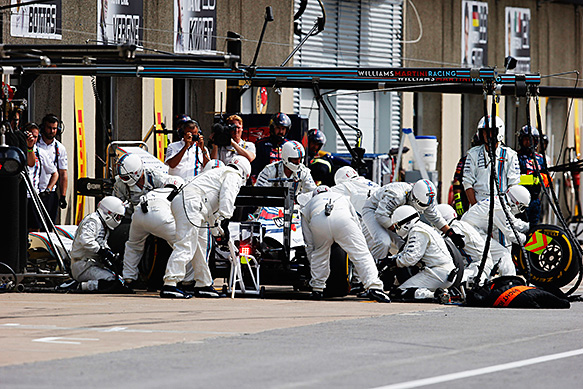 Felipe Massa says the Williams Formula 1 team missed a "big opportunity" to win the Canadian Grand Prix due to a problem at his first pitstop.
The Brazilian ran ahead of eventual winner Daniel Ricciardo and the Australian's Red Bull team-mate Sebastian Vettel in the early part of the race, but was delayed by a problem with the left-front wheel gun when he pitted for the first time.
Although he briefly led the race before his final stop, before crashing out spectacularly on the final lap with Sergio Perez, Massa feels it was the pit error that cost him a shot at his first F1 win since the Brazilian GP of 2008.
"Honestly I was the quickest car on the track most of the time," said Massa, when asked by AUTOSPORT if he could have won the race without the pitstop error.
"Not with the super-soft, on that tyre I had a similar pace to [team-mate] Valtteri [Bottas], but with the prime the car was amazing - really, really quick - and without this problem in the pitstop I think it was totally possible to be in front of Ricciardo.
"It was a big missed opportunity. We lost a lot of points. We had an incredible car - there were no problems at all.
"I'm so disappointed because it would have been a fantastic race."
MASSA AGREED WITH STRATEGY
Massa led the race when both Mercedes pitted for the second time with roughly 25 laps remaining, but the Brazilian did not believe it was possible to get to the end on that set of soft tyres so agreed with his team's call to pit for a second time.
"I think the decision was correct to stop," Massa added.
"I started to lose grip on the rear, and knowing that normally degradation is not low on our car I'm sure I would have been very slow at the end of the race."
Massa also had no idea Lewis Hamilton had retired late in the race, so did not believe he was fighting for a possible win as he charged back through the field over the final 20 laps.
"I wasn't thinking about the victory - I couldn't see the Mercedes very well and I didn't see Lewis retired, so I thought it was a fight for the podium," Massa said.
"They [the team] didn't tell me about the Mercedes problems.
"It was a good track for us so we missed so much, because it was possible to win the race.
"When I was in free air I was the quickest car on the track."