Spa FR3.5: Carlos Sainz Jr sets the pace in practice
| | |
| --- | --- |
| By Glenn Freeman | Friday, May 30th 2014, 14:28 GMT |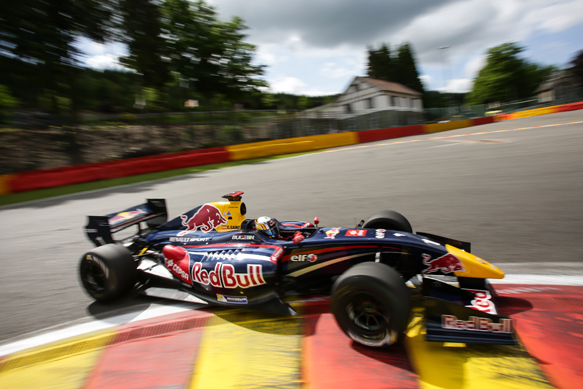 Formula Renault 3.5 championship leader Carlos Sainz Jr set the pace during free practice at Spa on Friday.
The Spaniard, who leads the standings by 15 points from rookie Oliver Rowland following last weekend's Monaco round, took control of the faster afternoon session early on, and controlled the timing screens on both long run pace and qualifying simulations.
It didn't take Sainz long to surpass Sauber Formula 1 junior Sergey Sirotkin's best from the morning session, which came as no surprise as conditions were fully dry for the afternoon after some light rain had interfered with the earlier running.
Sirotkin remained a factor as the pace increased though, and he was best of the rest behind Sainz - who set two laps good enough for P1 - in the second session as well.
The afternoon running came alive in the final few minutes as teams switched their attention to preparing for Saturday morning's race one qualifying session, but even during a series of improvements from the majority of the field, Sainz was only knocked off of top spot for a few seconds.
Series returnee Richie Stanaway, who was injured in the 2012 FR3.5 event at Spa, was the driver to briefly move to the front while Sainz got up to speed in the closing stages.
By the end of the session the Lotus driver was down to seventh, having abandoned what appeared to be a faster final lap as the chequered flag came out.
Monaco podium finisher Marco Sorensen was one of those to push Stanaway back as he took third, with Pietro Fantin, Pierre Gasly and Rowland all moving towards the top in the closing moments.
Will Stevens - whose Strakka team has been working to solve issues with getting new tyres up to temperature for qualifying runs - was eighth fastest, at a circuit the Briton believes will suit his car more than the streets of Monte Carlo did last weekend.
Follow the first Spa-Francorchamps FR3.5 race as it happens on AUTOSPORT Race Centre Live from 14:15pm UK time on Saturday May 31st
Practice 1                                                   
                                                             
Pos Driver               Team         Time       Gap     Laps
 1. Sergey Sirotkin      Fortec       2m01.777s           15 
 2. Pierre Gasly         Arden        2m02.217s  +0.440s  11 
 3. Carlos Sainz Jr      DAMS         2m02.253s  +0.476s  12 
 4. Marlon Stockinger    Lotus        2m02.461s  +0.684s  11 
 5. Pietro Fantin        Draco        2m02.610s  +0.833s  17 
 6. Luca Ghiotto         Draco        2m02.698s  +0.921s  15 
 7. Zoel Amberg          AVF          2m02.734s  +0.957s  14 
 8. Will Stevens         Strakka      2m02.785s  +1.008s  12 
 9. Marco Sorensen       Tech 1       2m02.863s  +1.086s  14 
10. Meindert van Buuren  Pons Racing  2m02.901s  +1.124s  17 
11. Will Buller          Arden        2m02.909s  +1.132s  12 
12. Norman Nato          DAMS         2m02.954s  +1.177s  13 
13. Jazeman Jaafar       ISR          2m02.956s  +1.179s  13 
14. Roberto Merhi        Zeta Corse   2m03.031s  +1.254s  9  
15. Matias Laine         Strakka      2m03.583s  +1.806s  9  
16. Oliver Rowland       Fortec       2m03.666s  +1.889s  16 
17. Oscar Tunjo          Pons Racing  2m04.784s  +3.007s  16 
18. Beitske Visser       AVF          2m04.828s  +3.051s  15 
19. Richie Stanaway      Lotus        2m05.610s  +3.833s  11 
20. Roman Mavlanov       Zeta Corse   2m06.083s  +4.306s  12 
                                                             
Practice 2                                                   
                                                             
Pos Driver               Team         Time       Gap     Laps
 1. Carlos Sainz Jr      DAMS         1m59.139s           16 
 2. Sergey Sirotkin      Fortec       1m59.344s  +0.205s  18 
 3. Marco Sorensen       Tech 1       1m59.607s  +0.468s  18 
 4. Pietro Fantin        Draco        1m59.661s  +0.522s  19 
 5. Pierre Gasly         Arden        1m59.818s  +0.679s  17 
 6. Oliver Rowland       Fortec       1m59.823s  +0.684s  17 
 7. Richie Stanaway      Lotus        1m59.850s  +0.711s  16 
 8. Will Stevens         Strakka      1m59.878s  +0.739s  15 
 9. Will Buller          Arden        1m59.920s  +0.781s  17 
10. Zoel Amberg          AVF          1m59.944s  +0.805s  18 
11. Matias Laine         Strakka      2m00.145s  +1.006s  17 
12. Jazeman Jaafar       ISR          2m00.215s  +1.076s  16 
13. Roberto Merhi        Zeta Corse   2m00.240s  +1.101s  15 
14. Norman Nato          DAMS         2m00.334s  +1.195s  17 
15. Luca Ghiotto         Draco        2m00.669s  +1.530s  15 
16. Marlon Stockinger    Lotus        2m00.692s  +1.553s  17 
17. Oscar Tunjo          Pons Racing  2m00.947s  +1.808s  17 
18. Meindert van Buuren  Pons Racing  2m01.039s  +1.900s  18 
19. Beitske Visser       AVF          2m01.619s  +2.480s  18 
20. Roman Mavlanov       Zeta Corse   2m02.143s  +3.004s  18