Jimmie Johnson was never worried by 2014 NASCAR winless streak
| | |
| --- | --- |
| | Tuesday, May 27th 2014, 08:25 GMT |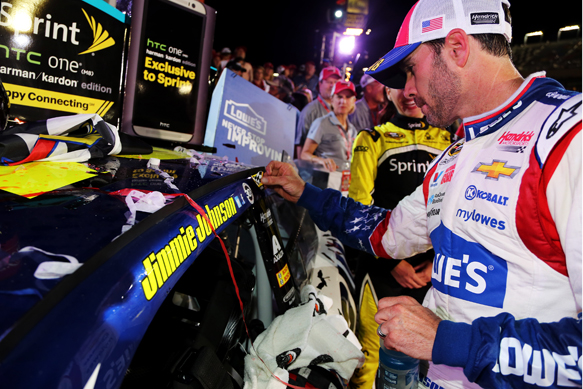 Jimmie Johnson says he never had the slightest concern that he was going to miss out on the 2014 NASCAR Sprint Cup Chase before his Charlotte Motor Speedway win.
This year the Chase positions are earned by number of race victories rather than championship points, but reigning champion Johnson had failed to score a win in the first 11 rounds of the season.
A commanding performance in Sunday night's 600-mile event secured his provisional place in the title shootout.
Afterwards Johnson said irritation at being quizzed over his 'win drought' had been greater than any worries about his form.
"What the hell are you all going to write about now?" he asked reporters at Charlotte.
"I guess we've created this environment for ourselves.
"I honestly wasn't stressing. The fact that 12 races [without a win] created that much buzz just means we've done a lot of great things over the years, so I'll turn it into a compliment."
"More than anything, I just got tired of answering the question.
"There wasn't a lot of frustration due to pressure of winning. There was frustration in not having fast racecars, but that's a different situation.
"We hold ourselves to a high standard. I think we're onto some good things and have a good direction to go with our racecars."
Johnson doubts the Chase will end up being 'winners only', as he does not believe there will be sufficient win variety to fill the whole 16-driver title group.
The Hendrick man is the 10th victor from the first 12 rounds.
"Of course, we want to win early and often. But we were holding steady in the championship points," said Johnson, who is sixth in the standings.
"In my opinion, I don't believe there will be 16 different winners. I felt like a strong championship points position would get us into the first phase of the Chase."