Pau Euro F3: Tom Blomqvist beats Esteban Ocon in race two epic
| | |
| --- | --- |
| By Marcus Simmons | Sunday, May 11th 2014, 10:30 GMT |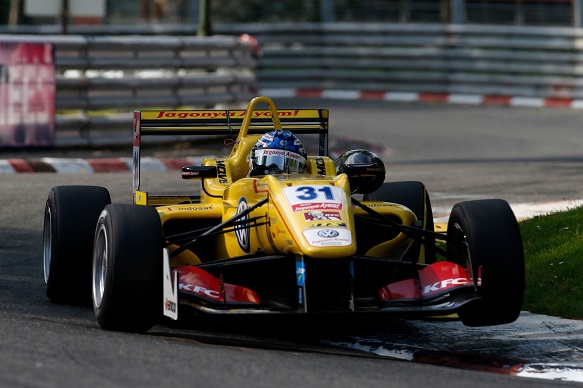 Tom Blomqvist denied Esteban Ocon in a thrilling second race of the Formula 3 European Championship weekend at Pau.
Blomqvist, who started the wet race fourth on the grid, was gifted second place by accidents ahead, and then made the most of a late safety car to squeeze past Ocon in a brave round-the-outside move in the flat-out left-hand kink leading into Parc Beaumont.
Ocon, who had dominated the weekend, led the race after the safety-car start, but Felix Rosenqvist began reeling him in after the Lotus F1 Junior inflicted slight damage to his car on the kerb at the final chicane. The Swede attacked the Frenchman on the uphill climb to the Pont Oscar hairpin on the 14th lap, jinking to the outside, but he tripped over the early-braking Ocon's right-rear wheel and crashed into the barriers.
Two laps earlier, Max Verstappen had spun backwards into the tyre wall at the exit of the Foch chicane after running in third place, elevating Blomqvist to second.
Ocon's Prema Powerteam Dallara-Mercedes was clearly struggling after the contact with Rosenqvist and, with Carlin Dallara-Volkswagen stablemate Jake Dennis breathing down his neck, Blomqvist began closing the gap.
A safety car, caused when Ed Jones hit the barriers entering Parc Beaumont, put Blomqvist right onto Ocon's tail, and just two laps remained when the race went green.
Ocon made an excellent restart, but Blomqvist was all over him through Pont Oscar and the following Lycee hairpin before making his move.
From then on, Ocon had to do a stout defending job to keep Dennis, Antonio Giovinazzi and Dennis van de Laar at bay, but held on to claim second place.
Blomqvist, for whom this was the second win since he was picked up for this season by the Indonesian Jagonya Ayam scheme, said: "It was quite difficult and there wasn't too much grip. I was struggling a little bit compared to Felix and Esteban.
"I heard on the radio that Esteban was struggling, but it was pretty difficult to get by because there isn't much room around here."
A chain-reaction incident behind the leading quintet after the restart ended with Mitch Gilbert taking sixth place - without a front wing.
Nicholas Latifi, who had stormed up the order from 14th on the grid, passed Gilbert at the restart for sixth. Half a lap later the Canadian was in the barriers, while Jordan King and Antonio Fuoco stalled in the drama and could not restart.
Meanwhile, John Bryant-Meisner, Riccardo Agostini, Gustavo Menezes and Michele Beretta were all delayed and incurred varying amounts of damage.
Lucas Auer and Felix Serralles crept through the mayhem to seventh and eighth, while Roy Nissany and Hector Hurst found themselves elevated into the final points positions, having been 17th and 16th respectively when the race restarted.
Results - 22 laps:

Pos  Driver              Team/Car                         Time/Gap
 1.  Tom Blomqvist       Carlin Dallara-VW              35m36.291s
 2.  Esteban Ocon        Prema Dallara-Merc                +4.551s
 3.  Jake Dennis         Carlin Dallara-VW                 +4.652s
 4.  Antonio Giovinazzi  Carlin Dallara-VW                 +4.910s
 5.  Dennis Van de Laar  Prema Dallara-Merc                +5.419s
 6.  Mitchell Gilbert    Fortec Dallara-Merc               +9.334s
 7.  Lucas Auer          Mucke Dallara-Merc                +9.601s
 8.  Felix Serralles     West-Tec Dallara-Merc            +10.089s
 9.  Roy Nissany         Mucke Dallara-Merc               +16.847s
10.  Hector Hurst        West-Tec Dallara-Merc            +18.577s
11.  Jon Bryant-Meisner  Fortec Dallara-Merc              +20.202s
12.  Michele Beretta     Eurointernational Dallara-Merc   +30.469s
13.  Gustavo Menezes     Van Amersfoort Dallara-VW        +34.013s
14.  Riccardo Agostini   Eurointernational Dallara-Merc   +34.637s
15.  Felipe Guimaraes    Double R Dallara-Merc              +1 lap
16.  Alexander Toril     T-Sport Dallara-NBE                +1 lap
17.  Nicholas Latifi     Prema Dallara-Merc                +2 laps
18.  Jordan King         Carlin Dallara-VW                 +2 laps
19.  Antonio Fuoco       Prema Dallara-Merc                +2 laps

Retirements:

     Edward Jones        Carlin Dallara-VW                 16 laps
     Tatiana Calderon    Jo Zeller Dallara-Merc            15 laps
     Jules Szymkowiak    Van Amersfoort Dallara-VW         15 laps
     Felix Rosenqvist    Mucke Dallara-Merc                13 laps
     Sean Gelael         Carlin Dallara-VW                 13 laps
     Max Verstappen      Van Amersfoort Dallara-VW         11 laps
     Richard Goddard     T-Sport Dallara-NBE                7 laps