Keselowski hits out at Kenseth over Richmond race move
| | |
| --- | --- |
| | Monday, April 28th 2014, 10:55 GMT |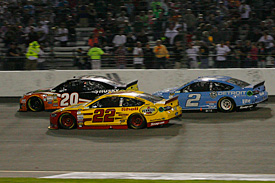 Brad Keselowski described Matt Kenseth's driving in their Richmond NASCAR Sprint Cup battle as "mind-boggling" and has hinted at future revenge.
The two former champions clashed in the closing stages on Saturday night as Kenseth tried to hang on to his lead under heavy pressure from Keselowski and Jeff Gordon.
As the trio became embroiled with each other, Joey Logano was able to sneak through on the inside and steal the victory.
Keselowski and Kenseth continued to collide after Logano had passed them, and then hit each other again on the slowing-down lap having finished fourth and fifth.
"I had a shot at winning the race and I felt like he ran me off the track," said Keselowski.
"It was just a mind-boggling move to me. I made sure I got him back and I made sure my team-mate could win the race.
"I just thought it was uncalled for. You make a move like that when you're going to win the race, not just to stop someone else from winning.
"I've got to put that in the bank and remember it."
Kenseth was adamant that he gave Keselowski enough space.
"I did move up the track in [Turn] 3 but we were racing for a win," he said. "I thought the track was wide enough given how high people were running."
The Joe Gibbs driver was also furious with Keselowski for instigating further contact, in which AJ Allmendinger and Dale Earnhardt Jr were caught up, after the chequered flag.
"It was really disappointing he had to tear up all those cars afterwards," said Kenseth. "I never think that's very cool."
Gordon, who ultimately finished second, argued that Kenseth's driving was not unfair, but admitted it was probably counter-productive.
"I think that Matt did what he felt like he needed to do, and he made his car really wide and probably didn't make the guys behind him very happy, but I can't say he did anything wrong," said the Hendrick man.
"I ultimately think that might have cost him not just the win but more positions.
"I think the #2 [Keselowski] was probably going to win. The #2 was so much better than him that had [Kenseth] just run his line around the bottom, then the #2 was going to probably just get to the outside of him and go right on by."