Simona de Silvestro makes Formula 1 debut with Sauber
| | |
| --- | --- |
| By Pablo Elizalde | Saturday, April 26th 2014, 16:55 GMT |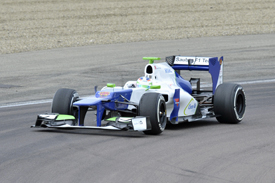 Simona de Silvestro made her Formula 1 debut on Saturday, testing a Sauber at Ferrari's Fiorano circuit.
The Swiss racer, who joined the team this year as an 'affiliated driver', completed a total of 112 laps of the Italian track at the wheel of a two-year-old Sauber C31.
The car did not have KERS and was using special Pirelli tyres. No times were issued by the team.
"Although it's something very special to drive a Formula 1 car, I was not too nervous in the morning," said de Silvestro, the first woman to finish on the podium on a street circuit in IndyCar.
"I was more focused on what my job would be.
"But, after completing the installation lap, I realised that this was my first lap in a Formula 1 car, and that this was something really special.

Simona de Silvestro F1 debut gallery
"What impressed me most was the downforce of the car and the braking. When I did my first lap the brakes were cold, but even then the deceleration was beyond what I had experienced before.
"The g-forces are significantly higher compared to what I was used to in IndyCar. Overall, I'm happy with my first day in a Formula 1 car."
De Silvestro, whose goal for 2014 is to prepare herself for a possible race seat next year, will be back at the wheel of the car on Sunday.
Sauber's test engineer Paul Russell said the team was happy with de Silvestro's work on her first F1 outing.
"Simona did a very solid job today," he said. "It was immediately clear that she is an experienced driver.
"It was as good a start in a Formula 1 car as you could hope for, and you couldn't really ask for more today."