Donington BTCC: Jason Plato grabs pole, Gordon Shedden second
| | |
| --- | --- |
| By Kevin Turner | Saturday, April 19th 2014, 15:26 GMT |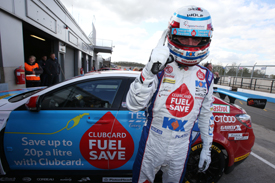 Jason Plato took pole position for the first British Touring Car race at Donington Park.
The top spot changed several times in the initial flurry, with Plato leading the way after the first runs with 1m09.460s in his Triple Eight MG6.

Like most, Plato failed to improve on his later run as the track got dirty with people running off track, but nobody was able to better his early mark.

"It wasn't a perfect lap - I made a mistake at Redgate, but the rest of the lap was pretty sweet," said Plato.

Gordon Shedden did improve on his second run, but stayed second with 1m09.591s in the new Honda Civic Tourer.

Sam Tordoff made it two MGs in the top three, just ahead of Colin Turkington's WSR BMW.

After his rapid pace in free practice, Aron Smith spent much of the session behind BMR VW team-mate Alain Menu, but jumped the double champion in the final moments to secure fifth.

Menu felt a tenth was lost with traffic at the Cranar Curves on his fastest lap, which was enough to yield sixth.

Championship leader Andrew Jordan was next in his Eurotech Honda Civic, carrying 45kg of success ballast.

Jack Goff completed BMR's good day with eighth in the fastest Vauxhall Insignia.

Matt Neal was ninth in his Civic Tourer, while former British F3 champion Marc Hynes continued his improvement in form by completing the top 10.

Fabrizio Giovanardi made it seven BTCC champions in the top 11, and one second covered the top 16.

Adam Morgan's Mercedes, which had been in the top five early on, had its times disallowed with less than 10 minutes of the session to go after failing the rideheight test.

The team worked on the car and Morgan returned to the track, but could only manage 17th after a mistake at Redgate on his final lap.
Follow the BTCC and WTCC races, Auto GP race two and the WEC season opener as they happen on Race Centre Live from 11:30am UK time on Sunday April 20

Pos Driver               Car                  Time       Gap    
 1. Jason Plato          MG                   1m09.460s         
 2. Gordon Shedden       Honda                1m09.591s  +0.131s
 3. Sam Tordoff          MG                   1m09.696s  +0.236s
 4. Colin Turkington     WSR BMW              1m09.746s  +0.286s
 5. Aron Smith           BMR VW               1m09.819s  +0.359s
 6. Alain Menu           BMR VW               1m09.864s  +0.404s
 7. Andrew Jordan        Eurotech Honda       1m09.943s  +0.483s
 8. Jack Goff            BMR Vauxhall         1m09.996s  +0.536s
 9. Matt Neal            Honda                1m10.043s  +0.583s
10. Marc Hynes           MG                   1m10.045s  +0.585s
11. Fabrizio Giovanardi  Motorbase Ford       1m10.145s  +0.685s
12. Tom Ingram           Speedworks Toyota    1m10.248s  +0.788s
13. Rob Collard          WSR BMW              1m10.336s  +0.876s
14. Mat Jackson          Motorbase Ford       1m10.341s  +0.881s
15. Nick Foster          WSR BMW              1m10.425s  +0.965s
16. Rob Austin           RAR Audi             1m10.457s  +0.997s
17. Adam Morgan          Ciceley Mercedes     1m10.556s  +1.096s
18. Martin Depper        Eurotech Honda       1m10.623s  +1.163s
19. Dave Newsham         AmD Ford             1m10.639s  +1.179s
20. Warren Scott         BMR Vauxhall         1m10.673s  +1.213s
21. Glynn Geddie         UA Toyota            1m10.746s  +1.286s
22. Hunter Abbott        RAR Audi             1m10.897s  +1.437s
23. Lea Wood             Houseman Toyota      1m11.255s  +1.795s
24. Aiden Moffat         Moffat Chevrolet     1m11.404s  +1.944s
25. James Cole           UA Toyota            1m11.472s  +2.012s
26. Jack Clarke          Motorbase Ford       1m11.556s  +2.096s
27. Robb Holland         Rotek Audi           1m11.586s  +2.126s
28. Ollie Jackson        Welch Proton         1m11.775s  +2.315s
29. Simon Belcher        Handy Toyota         1m12.068s  +2.608s
30. Chris Stockton       BTC Chevrolet        1m12.430s  +2.970s
31. Dan Welch            Welch Proton         1m14.715s  +5.255s