Long Beach IndyCar: Simon Pagenaud tops tight second practice
| | |
| --- | --- |
| By Mark Glendenning | Friday, April 11th 2014, 21:47 GMT |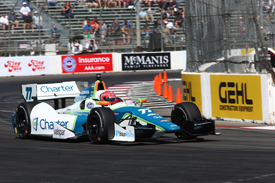 Simon Pagenaud topped the times in an extraordinarily tight second IndyCar practice session at Long Beach, where the top 19 cars were covered by less than a second.
Pagenaud took his place at the top of the sheets when he posted a 1m09.1488s lap with nine minutes left on the clock.
At that point he was 0.5 seconds clear of the rest of the pack, but compatriot Sebastien Bourdais came close to making the spot his own just a few minutes later.
His time fell short by just 0.012s, but it was good enough to secure a French lock-out of the top two places.
"The team has done a good job over the winter of helping the car on the kerbs and bumps," Pagenaud said.
"I'm really confident that we have a good car this weekend."

The spicy rivalry that IndyCar needs
Rookie Jack Hawksworth was third-fastest and said that it was an encouraging sign for the next two days.
"The difference between here and [the last race] at St Pete is that this weekend we've rolled off the truck a bit stronger," he said. "At St Pete we were chasing it a bit right through the weekend and only got it dialed in when it mattered.
"I'm much more comfortable with the car this weekend, and I think we've got a bit more potential. I'm excited."
Rounding out the top five were last year's Long Beach winner Takuma Sato and Will Power, while Josef Newgarden repeated his solid form from the morning session by coming in sixth.
Juan Pablo Montoya managed to make it into the top 10 for the first time since returning to IndyCar, the Colombian finishing the afternoon with the ninth-best time.
Pos Driver              Team/Engine       Time        Gap      Laps
 1. Simon Pagenaud      Schmidt/Honda     1m09.1488s             18    
 2. Sebastien Bourdais  KV/Chevy          1m09.1608s  +0.0120s   19    
 3. Jack Hawksworth     Herta/Honda       1m09.4409s  +0.2921s   19    
 4. Takuma Sato         Foyt/Honda        1m09.4524s  +0.3036s   19    
 5. Will Power          Penske/Chevy      1m09.4980s  +0.3492s   19    
 6. Josef Newgarden     Fisher/Honda      1m09.5356s  +0.3868s   19    
 7. Ryan Briscoe        Ganassi/Chevy     1m09.6173s  +0.4685s   17    
 8. Justin Wilson       Coyne/Honda       1m09.6537s  +0.5049s   17    
 9. Juan Pablo Montoya  Penske/Chevy      1m09.6987s  +0.5499s   17    
10. Ryan Hunter-Reay    Andretti/Honda    1m09.7242s  +0.5754s   16    
11. Scott Dixon         Ganassi/Chevy     1m09.7976s  +0.6488s   20    
12. James Hinchcliffe   Andretti/Honda    1m09.8086s  +0.6598s   20    
13. Carlos Munoz        Andretti/Honda    1m09.8158s  +0.6670s   21    
14. Mike Conway         Carpenter/Chevy   1m09.8510s  +0.7022s   24    
15. Marco Andretti      Andretti/Honda    1m09.8761s  +0.7273s   19    
16. Tony Kanaan         Ganassi/Chevy     1m09.9799s  +0.8311s   17    
17. Oriol Servia        Rahal/Honda       1m09.9926s  +0.8438s   16    
18. Mikhail Aleshin     Schmidt/Honda     1m09.9968s  +0.8480s   21    
19. Helio Castroneves   Penske/Chevy      1m10.0865s  +0.9377s   19    
20. Carlos Huertas      Coyne/Honda       1m10.1914s  +1.0426s   24    
21. Graham rahal        Rahal/Honda       1m10.2469s  +1.0981s   21    
22. Charlie Kimball     Ganassi/Chevy     1m10.2478s  +1.0990s   19    
23. Sebastian Saavedra  KV/Chevy          1m10.5842s  +1.4354s   18