Lauda furious with Ecclestone, Montezemolo for F1 criticism
| | |
| --- | --- |
| By Jonathan Noble | Friday, April 11th 2014, 15:58 GMT |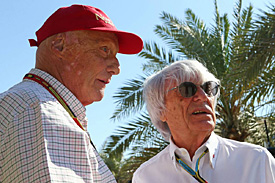 Niki Lauda says Bernie Ecclestone and Luca di Montezemolo were wrong to so openly criticise Formula 1's new rules, because they risked destroying the sport.
Although a thrilling Bahrain Grand Prix has served to silence those doubting the new turbo regulations, Lauda is still angry about the approach taken in the build-up to the race.
The Mercedes non-executive chairman thinks it 'stupid' that leading figures were so willing to speak out against F1, and likened it to a movie director slating his own film before the release date.
"If Ron Howard would have said, 'I am making a 'Rush' movie, and I can tell you guys that this is the worst movie I ever made', then this is what was happening to Formula 1," said Lauda in an exclusive interview with AUTOSPORT.
"If he had said it before the movie came out, then nobody would have gone to see it.
"So what we are doing now, because of these different influences, is destroying our own sport."
He added: "I think it all started in Australia because the organisers complained about the noise level, and Bernie has complained from day one about the noise.
"Then it got its own dynamics and di Montezemolo came in and said there is not enough fuel.
"Out of this momentum everyone threw their own trouble in, and I have never seen such a stupid approach to a problem.
"How can you do that? I am talking as a normal person, I am not talking as someone from Mercedes. It is ridiculous."
CRITICISMS WILL NOW DIE DOWN
Lauda took part in meetings with the FIA, Ecclestone and team representatives in Bahrain to discuss the problems with the new rules.
And he is hopeful that with a consensus to try to improve the noise and placate concerns of F1's race promoters, the anti-rules spin will soon come to a halt.
"If we would stop this bullshit ourselves, then it will go right away," he said. "The noise issue will stay, because fans always hear the noise, but the rest will disappear.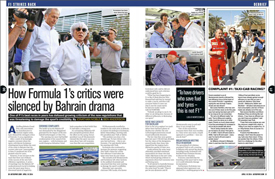 "And it should never have come to this point now where we destroy our own sport. That was my biggest concern."
He also thinks it outrageous that rival teams were lobbying for rule change discussions against the backdrop of Mercedes having been dominant at the start of the season.
"I do not care who wins, but it is extremely unfair now if everyone moans and bitches because the first races were won by Mercedes," he said.
"Red Bull and [Sebastian] Vettel bored everybody over the last half of the season by winning nine races, and nobody said anything. That is unfair.
"Thank god, I can only say, that after last year's Red Bull dominance that there is somebody else now. That is the best you can do to a sport, so leave it alone."

This week's AUTOSPORT magazine features an in-depth news analysis on how the rows over F1 2014 came to a head over the Bahrain GP weekend