Sir Chris Hoy joins British GT field and aims for Le Mans 24 Hours
| | |
| --- | --- |
| By Scott Mitchell | Tuesday, April 8th 2014, 13:05 GMT |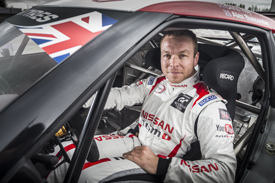 Britain's most decorated Olympian Sir Chris Hoy will join British GT in a factory-backed Nissan as part of a three-year plan to race in the Le Mans 24 Hours.
The six-time Olympic cycling champion has joined the Japanese manufacturer's Academy outfit Team RJN and will be partnered in its NISMO GT-R GT3 predominantly by Alex Buncombe.
Other members of the Academy will fill in for any races Buncombe misses.
Hoy, 38, only made his car racing debut last season in the Radical SR1 Cup after retiring from a glittering cycling career that also took in 11 world championship titles, and has driven a variety of Nissan GT cars in preparation for the step up.
"It's a very exciting project but quite scary too," he said. "It's a big challenge but I'm really looking forward to it and can't wait to get stuck in.
"It's quite intimidating [but] I want to do my best and do these guys justice.
"It might sound ridiculous right now but my ambition in motorsport is to compete at Le Mans.
"Who knows if it's even remotely possible but that's my dream. I'm in the right place to do it."
VIDEO: SIR CHRIS HOY ON HIS BRITISH GT MOVE
AUTOSPORT SAYS...
Scott Mitchell, Editorial Assistant (@scottmitchell89)
"It's definitely a big plus," said SRO chief Benjamin Franassovici regarding the news that Sir Chris Hoy would join the British GT grid this season.
Obvious, yes, but make no mistake about it - the move is massive news for the championship.
The series, as we've recorded over the last 18 months, is going from strength to strength. Its grid is one of the finest in Europe to look at and the entry list is awash with established GT talent and rising stars.
But while it has quality in abundance, one area it lacks is publicity - when you compare crowd attendance and television coverage to something like British Touring Cars, British GT falls short.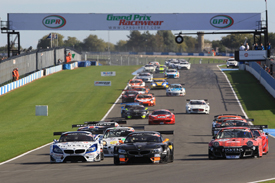 That's why this is important for the series. Hoy's racing ambition and thirst for adrenaline is admirable, and all credit to him for taking the plunge against a top quality grid, but there's a bigger picture here.
Last year's announcement that he would be pedalling a Radical SR1 instead of a state-of-the-art bicycle garnered plenty of mainstream coverage and series boss Franassovici is, quite rightly, hopeful the Nissan deal will expand the British GT audience.
Of course, that is reliant on media coverage outside of motorsport being aware of how big a deal BGT is, especially in comparison to - with no disrespect intended - the SR1 Cup.
Live coverage is usually reserved for the bigger races, but there has been movement on the television front - namely, a highlights show on BT Sport that will air shortly after its coverage on Channel 4. The packed-out Silverstone round on the Grand Prix circuit should also be beamed out live.
Inside the sport it is obvious that the British series' standing, and GT racing's in general, among aficionados and professionals is very high indeed. But in the last couple of seasons mainstream media has almost been reluctant to accept that endurance racing has a place near the top of the tree.
If Hoy can help change that, the sport as a whole stands to benefit.