Bahrain GP: Lewis Hamilton hurt by balance issues
| | |
| --- | --- |
| By Jonathan Noble | Saturday, April 5th 2014, 20:41 GMT |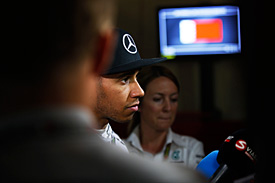 Lewis Hamilton reckons a car balance that has moved away from his liking was key to Nico Rosberg beating him to pole position for the Bahrain Grand Prix in Formula 1 qualifying.
The Malaysian GP winner began the weekend ahead of his Mercedes team-mate, but as his own struggles have increased as Rosberg managed to pick up the pace into qualifying.
And having seen Rosberg outpace him on their first run in Q3, Hamilton's hopes of pole position were dashed when he locked up on the entry to Turn 1 on his final effort.
"I think I braked a little bit later and then it was locked," he said. "There's not really much else to say
"Friday was a good day, the car felt a lot better on Friday, but today it felt slightly worse. But we presumed it was just the temperatures and wind in FP3.
"But then for qualifying it didn't really change that much. It was a bit of trouble in qualifying. But still, the gap isn't huge and we still have great performance."

Bahrain GP qualifying report
Hamilton reckons that such swings in performance between team-mates was to be expected.
"In general it's always easier to catch your team-mate," he said. "When you start the weekend and the team-mate has a little bit of a gap, you go through all the data and bit by bit you close that gap.
"His weekend has got better and mine's gone more the other way in terms of pace. He did a great job in qualifying."
TYRE DEGRADATION KEY TO RACE
Rosberg thinks that there is very little difference in pace between himself and Hamilton - which is why he believes tyre management will be key to winning.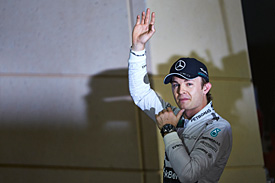 When asked what will make the difference between the two drivers on Sunday, Rosberg said: "For sure it will be small things.
"It will be close I am sure, and tyre degradation is going to be a critical factor for strategy, getting that right.
"And definitely the one who is first out of Turn 1 is going to have a bit of an advantage because it is always easier to lead the way than be behind, so that is going to be key to winning tomorrow - managing the tyres well."
Having studied Hamilton's data from Malaysia, Rosberg thinks he has made progress in understanding how to get the best out of Pirelli's 2014 rubber.
"It is a great battle we have internally and we are both pushing each other all the time," he said.
"There are always things he will pick up from me, and I will pick up from him."