Kurt Busch to contest Indianapolis 500 with Andretti Autosport
| | |
| --- | --- |
| | Tuesday, March 4th 2014, 14:44 GMT |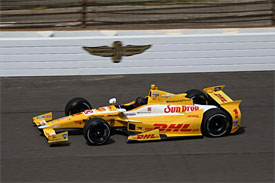 Kurt Busch will contest the 2014 Indianapolis 500 with Andretti Autosport, becoming the first NASCAR star in recent years to race in IndyCar.
The 2004 Cup champion's Indy bid has been on the cards since he tested for Michael Andretti's team last May.
Busch is attempting a 'double' by participating in the 600-mile Cup round at Charlotte on the night of the Indy 500.
"This is really to challenge myself within motorsports," said Busch.
"Perhaps I am a bit of an old-school racer; a throw-back, I guess.
"I enjoyed the era of drivers racing different cars and testing themselves in other series.
"It is tough to do now for a variety of factors, but when the opportunity is there, I want to do it.
"While NASCAR is my home, I have been fortunate to compete in Pro Stock on the NHRA circuit a number of years ago and test a V8 Supercar.
"This opportunity was a talk with Michael over dinner one night on 'what if?' and now it's all becoming a reality for me to drive in the Indy 500 with Andretti Autosport.
"It's literally a dream come true. To go to the famous Brickyard with the iconic Andretti name, it doesn't get much cooler or better than that."
Andretti said Busch's 2013 test suggested he will be immediately competitive.
"He did a great job for us when he tested last year," said Andretti.
"He's obviously a natural talent and we feel he is going to take to the Indycar quickly and have a competitive month with us."
Busch will become the fourth driver to attempt the Indy/Charlotte double, following the example of John Andretti, Robby Gordon and his current NASCAR team boss Tony Stewart.
"It's great having Tony as the co-owner of my NASCAR team as in the weeks leading up to the month of May, it gives me a chance to talk with him about his personal experiences with the double - to anticipate what's next and have things checked off the list so that I'm mentally and physically prepared for the challenge," said Busch.