Cosworth considering return to IndyCar as third engine manufacturer
| | |
| --- | --- |
| By Mark Glendenning | Thursday, February 27th 2014, 21:09 GMT |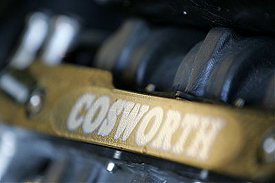 Cosworth has thrown its hat into the ring as a potential third engine manufacturer for IndyCar.
Recently-installed CEO Hal Reisiger has told AUTOSPORT that he wants to restore motorsport as a central focus of Cosworth's operations.
And one of the key components of that plan is competing against incumbent IndyCar engine suppliers Honda and Chevrolet.

"I've restructured the organisation and refined the strategy to put a greater emphasis on motorsport," he said.

"If you look at the recent changes to our board, adding [motorsport marketing guru] Zak Brown and [former Williams F1 CEO] Adam Parr as two examples, we are positioning ourselves to expand our motorsport presence.

"We've always been very strong when it comes to being engineering-centric, but I want to enhance the commercial end of the business from a sales and marketing standpoint.
"So we have a long list of motorsport target programs with IndyCar, LPM2, RallyX and the like, and you'll see a lot more awareness and a lot more activity on our part to earn that business."

Cosworth-powered cars have won 12 Indy 500s, although the company has not been represented in US single-seaters since its final season in the then-IRL in 2005.
Reisiger said that any potential return would require a partnership, possibly with an auto manufacturer, but that his company has the resources in place to commence an IndyCar project without delay should a deal come together.

"We could start doing analysis, simulation, proof of concept, and cutting metal very soon," he said.
"We've still got core teams in the engineering and manufacturing areas that used to work on Cosworth IndyCar engines. So we could turn that switch on immediately."

Reisiger is currently in the US and plans to meet with IndyCar management on Tuesday, but says that his plans already have the support of the series.

"It has been widely-known for some time that they want to get another engine manufacturer," he said.
"I think the key is to come up with the right beneficial relationship between the OEM [original engine manufacturer], the series and Cosworth."
Cosworth is currently building a new facility close to its current base in Northampton, with the initial land-preparation work scheduled to commence early next month.