New British F3 engine given maiden run by T-Sport at Spa
| | |
| --- | --- |
| By Marcus Simmons | Tuesday, November 5th 2013, 11:24 GMT |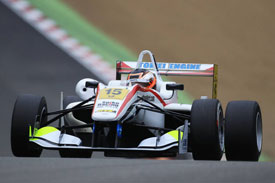 British engine builder Neil Brown Engineering has become the first to run a new-rules Formula 3 powerplant on-track in Europe.
The NBE engine, built to new regulations that introduce bespoke racing powerplants to the F3 European Championship in 2014, was trialled at Spa on Monday by British team T-Sport.
Australian Spike Goddard, a regular with T-Sport in European F3 this season (pictured), blooded the engine in his regular Dallara F312 chassis on a wet track.
Both T-Sport and NBE were delighted with progress, especially after comparing data against a pole lap set in similarly wet conditions by the team's Adriano Buzaid in 2009.
Team boss Russell Eacott reported that Goddard made up 9mph in comparison to the old-style engine between corner exits and end-of-straight speeds.
"It was really good," said Eacott. "Throttle response was great, the electronics and direct-injection worked fine, and the paddle-shift was mega.
"We're quite excited about it. It's a good step for F3, especially as we felt we'd been left behind by other categories as far as electronics are concerned."
NBE F3 engine chief Gavin Harrison added: "It was very positive. We only ran for a short period of time because we had some fuel-pressure issues.
"It was only an exploratory run with no preconceived ideas, but everyone is quite buoyed."
Regarding any teams racing the engine in 2014, Harrison said: "We're talking to some people but it's very early days.
"We're preparing a few engines and we can prepare a few more if customers commit."
It is understood that Mercedes' new HWA-built engine will run on-track within a couple of weeks of this month's Macau Grand Prix, and is already being tested on the dynamometer.
New engines have already been raced throughout this season's All-Japan F3 Championship, with TOM'S/Toyota, Mugen and Toda all supplying products.