Indian GP: Webber thinks he has winning strategy
| | |
| --- | --- |
| By Jonathan Noble and Matt Beer | Saturday, October 26th 2013, 11:40 GMT |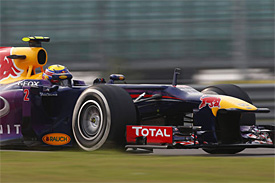 Mark Webber believes his strategy gives him an excellent opportunity to win the Indian Grand Prix, but admits it is very hard to predict whose tyre tactics will pay off.
On a weekend when the softer tyre is only lasting a few laps while the medium option shows great longevity, Webber is the highest-placed starter on the more durable Pirellis.
His polesitting Red Bull team-mate Sebastian Vettel and the two Mercedes ahead all qualified on softs.
Webber is four places ahead of next-highest medium tyre starter Fernando Alonso.
Asked if he felt that gave him a shot at winning the race, Webber replied: "Yeah. It needs everything to go right. You have a chance to be in a good position at the end.
"But, you cannot really say how the race is going to unfold in terms of tactics. And how we saw [Romain] Grosjean in the middle of Suzuka, where did that come from? It only takes one guy to stop you winning.
"You don't know how clean a run you will have you come out of the pits, so that is a big factor in it.
"You would think that the guy on the harder tyre should have a cleaner first 20 laps in the race, but if he has a clean run back through then the [driver on the] option is still pretty good."
Webber admitted that the laptime deficit to Vettel was not all due to tyre choice.
"I would probably be a tenth and a half off Seb - so it was still a pretty good lap," he said.
"To be eight or nine tenths clear of some others guys on the prime was good, as I felt we weren't as competitive on the prime to be honest."