Martinsville NASCAR: Denny Hamlin claims pole
| | |
| --- | --- |
| | Friday, October 25th 2013, 21:02 GMT |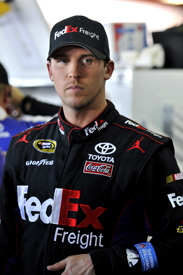 Denny Hamlin will start the NASCAR Sprint Cup race at Martinsville from pole position after topping qualifying on Friday.
Hamlin, running right in the middle of the session, lapped the 0.5-mile circuit in 19.013 seconds and watched as a number of drivers came close but ultimately failed to topple his Joe Gibbs Toyota.
Chase leader Jimmie Johnson's Hendrick Chevrolet offered the sternest challenge, but fell half a tenth short. Hamlin's Gibbs team-mate Kyle Busch was the final car to run in the session, and jumped to third - setting an identical 19.061s lap to Johnson in second.
Johnson's chief Chase rival Matt Kenseth was fourth fastest in his Joe Gibbs Toyota, fractionally ahead of Clint Bowyer and Joey Logano. The top six cars were covered by less than a tenth of a second.
Talladega winner Jamie McMurray briefly held provisional pole after immediately deposing 2012 champion Brad Keselowski, but was eventually shuffed back to seventh.
The session was incident-free bar Bowyer scraping the wall lightly on his second run, with nobody replicating the practice shunts of Danica Patrick and Ricky Stenhouse Jr.
Pos  Driver              Team/Car                     Time     Gap
 1.  Denny Hamlin        Joe Gibbs Toyota             19.013s
 2.  Jimmie Johnson      Hendrick Chevrolet           19.061s  +0.048s
 3.  Kyle Busch          Joe Gibbs Toyota             19.061s  +0.048s
 4.  Matt Kenseth        Joe Gibbs Toyota             19.092s  +0.079s
 5.  Clint Bowyer        Waltrip Toyota               19.096s  +0.083s
 6.  Joey Logano         Penske Ford                  19.111s  +0.098s
 7.  Jamie McMurray      Earnhardt Ganassi Chevrolet  19.126s  +0.113s
 8.  David Ragan         Front Row Ford               19.163s  +0.150s
 9.  Jeff Gordon         Hendrick Chevrolet           19.168s  +0.155s
10.  Kevin Harvick       Childress Chevrolet          19.171s  +0.158s
11.  Brad Keselowski     Penske Ford                  19.176s  +0.163s
12.  Dale Earnhardt Jr   Hendrick Chevrolet           19.183s  +0.170s
13.  Juan Pablo Montoya  Earnhardt Ganassi Chevrolet  19.185s  +0.172s
14.  Carl Edwards        Roush Fenway Ford            19.194s  +0.181s
15.  Marcos Ambrose      Petty Ford                   19.214s  +0.201s
16.  Ryan Newman         Stewart-Haas Chevrolet       19.219s  +0.206s
17.  Aric Almirola       Petty Ford                   19.242s  +0.229s
18.  Kurt Busch          Furniture Row Chevrolet      19.244s  +0.231s
19.  Ricky Stenhouse Jr  Roush Fenway Ford            19.245s  +0.232s
20.  Mark Martin         Stewart-Haas Chevrolet       19.248s  +0.235s
21.  Martin Truex Jr     Waltrip Toyota               19.253s  +0.240s
22.  Paul Menard         Childress Chevrolet          19.297s  +0.284s
23.  Landon Cassill      Circle Sport Chevrolet       19.312s  +0.299s
24.  Kasey Kahne         Hendrick Chevrolet           19.313s  +0.300s
25.  Kyle Larson         Target Chevrolet             19.328s  +0.315s
26.  David Gilliland     Front Row Ford               19.351s  +0.338s
27.  Casey Mears         Germain Ford                 19.356s  +0.343s
28.  Dave Blaney         Baldwin Chevrolet            19.366s  +0.353s
29.  Cole Whitt          Swan Toyota                  19.366s  +0.353s
30.  Jeff Burton         Childress Chevrolet          19.377s  +0.364s
31.  Josh Wise           Front Row Ford               19.387s  +0.374s
32.  Travis Kvapil       BK Toyota                    19.398s  +0.385s
33.  Greg Biffle         Roush Fenway Ford            19.408s  +0.395s
34.  Bobby Labonte       JTG Daugherty Toyota         19.422s  +0.409s
35.  Elliott Sadler      Waltrip Toyota               19.427s  +0.414s
36.  Michael McDowell    Parsons Ford                 19.432s  +0.419s
37.  JJ Yeley            Baldwin Chevrolet            19.446s  +0.433s
38.  Ken Schrader        FAS Lane Ford                19.501s  +0.488s
39.  Tony Raines         Hillman Chevrolet            19.504s  +0.491s
40.  Joe Nemechek        NEMCO Toyota                 19.511s  +0.498s
41.  Danica Patrick      Stewart-Haas Chevrolet       19.571s  +0.558s
42.  Reed Sorenson       Levine Ford                  19.757s  +0.744s
43.  David Reutimann     BK Toyota                    19.976s  +0.963s