Houson IndyCar: drivers positive about track changes
| | |
| --- | --- |
| By Mark Glendenning | Saturday, October 5th 2013, 16:27 GMT |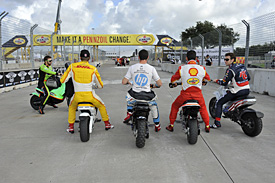 Overnight revisions to the surface of the Houston street circuit have received a largely positive response from IndyCar drivers following Saturday morning's short reconnaissance session.
The cars went out for an unscheduled 10 minute warm-up session to assess overnight efforts to reprofile a large bump at the end of the main straight; a problem that was addressed on Friday with the deployment of a temporary chicane.
Several cars were still launched by the bump during Saturday morning's session, but Schmidt Peterson driver Tristan Vautier told AUTOSPORT that the worst effects could now be avoided by choosing the right line.
"You don't want to go wide through there," he said. "With the standing start it should be OK because we won't be going in too fast. But it's definitely a huge bump. It's pretty crazy.
"The [temporary] chicane was too narrow, and if someone hits it the tyres go all over the place. So it wasn't good for safety. I think this is better."
Ganassi's Charlie Kimball also believed that the work to repair the track has delivered an improvement.
"I think it's better," he told AUTOSPORT. "They've put a lot of effort into it and it's not as bad as some of the bumps, like Baltimore was without the chicane. It's going to be hard on us, but we can live with it."
Changes to the schedule as a result of time lost to the track problems on Friday mean that IndyCar qualifying for today's race will take place this morning, while the grid for Sunday's race will be determined in a Sunday morning session.
The 'fast-six' format has been dropped for the weekend, and both grids with be decided by 30-minute sessions split into 15-minute windows, with half the field to run in each.