Zandvoort European F3: Rosenqvist wins, Marciello crashes out
| | |
| --- | --- |
| By Marcus Simmons | Sunday, September 29th 2013, 10:06 GMT |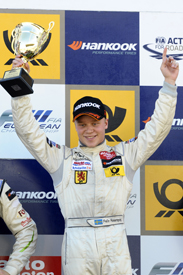 Felix Rosenqvist held off Jordan King in a one-lap sprint after a late safety car to win the final Formula 3 European Championship race of the weekend at Zandvoort.
The safety car was caused by championship leader Raffaele Marciello crashing out of fifth place, and the Italian's disastrous weekend means that Rosenqvist has now destroyed his points advantage to leave it at 9.5 with two rounds - and six races - remaining.
From pole position, Rosenqvist got a perfect start to take the lead in his Mucke Motorsport Dallara-Mercedes, while King got the better of front-row-sitting Carlin Dallara-Volkswagen team-mate Daniil Kvyat to squeeze into second place.
The gap between Rosenqvist and King hovered at around one second, and the Swede could never relax as the newly-crowned British Formula 3 champion kept the pressure on.
"I had all my focus on doing a good start," said Rosenqvist. "I was thinking like the Masters of F3 [which he won in 2011 and this year]: if you're first into Turn 1 you'll probably win.
"I think I had a bit more of a problem with tyre graining than Jordan, and I had to push quite a lot all the time. But 75 points from this weekend - I can't ask for anything more. A perfect outcome."
Alex Lynn made it two Brits on the podium by also demoting Kvyat at the first corner, the Prema Powerteam driver (pictured below) alleviating at least some of the Italian squad's misery over the form of its series-leading driver Marciello.
The Italian had kept the pressure on Kvyat without ever really looking to make a move, and appeared to understeer off the road at one of the Dutch circuit's fast right-handers, hitting the barrier initially with his left-front.
The shunt promoted Fortec Motorsport driver Pipo Derani to fifth, with Carlin's Harry Tincknell completing a trio of sixth-place finishes this weekend.
Tom Blomqvist did a good job to hold off Lucas Auer for much of the race, but the Austrian finally got his chance at the restart and forced his Prema car down the inside of the EuroInternational machine at Tarzan.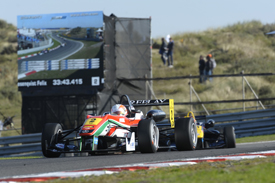 Alexander Sims completed a low-key weekend by taking ninth in his T-Sport/ThreeBond machine, holding off a flotilla of Mucke Motorsport drivers for most of the race.
Mitchell Gilbert was best of these to take 10th, while Double R Racing's Antonio Giovinazzi battled through this gaggle to take the final point (with Kvyat being unregistered).
The other Briton, Jann Mardenborough, was on the tail of this scrap to finish 14th.
Apart from Marciello, there were two other accidents, with Nicholas Latifi and Alfonso Celis both hitting the barriers.
Results - 21 laps:

Pos  Driver              Team/Car                          Time/Gap
 1.  Felix Rosenqvist    Mucke Dallara-Merc              35m16.663s
 2.  Jordan King         Carlin Dallara-VW                  +0.389s
 3.  Alex Lynn           Prema Dallara-Merc                 +1.523s
 4.  Daniil Kvyat        Carlin Dallara-VW                  +1.997s
 5.  Pipo Derani         Fortec Dallara-Merc                +2.769s
 6.  Harry Tincknell     Carlin Dallara-VW                  +3.337s
 7.  Lucas Auer          Prema Dallara-Merc                 +3.819s
 8.  Tom Blomqvist       Eurointernational Dallara-Merc     +4.547s
 9.  Alexander Sims      T-Sport Dallara-Nissan             +4.949s
10.  Mitchell Gilbert    Mucke Dallara-Merc                 +5.582s
11.  Antonio Giovinazzi  Double R Dallara-Merc              +6.166s
12.  Roy Nissany         Mucke Dallara-Merc                 +6.754s
13.  Michael Lewis       Mucke Dallara-Merc                 +7.330s
14.  Jann Mardenborough  Carlin Dallara-VW                  +7.488s
15.  Felix Serralles     Fortec Dallara-Merc                +7.718s
16.  Spike Goddard       T-Sport Dallara-Nissan             +8.439s
17.  Eddie Cheever       Prema Dallara-Merc                 +8.917s
18.  Andre Rudersdorf    Ma-con Dallara-VW                  +9.360s
19.  Lucas Wolf          URD Dallara-Merc                   +9.658s
20.  Sean Gelael         Double R Dallara-Merc             +10.391s
21.  Sandro Zeller       Zeller Dallara-Merc               +10.992s
22.  Sven Muller         Van Amersfoort Dallara-VW         +11.273s
23.  Dennis van de Laar  Van Amersfoort Dallara-VW         +12.017s
24.  Tatiana Calderon    Double R Dallara-Merc             +13.259s

Retirements:

     Raffaele Marciello  Prema Dallara-Merc                 15 laps
     Alfonso Celis       Fortec Dallara-Merc                10 laps
     Nicholas Latifi     Carlin Dallara-VW                   4 laps