Austin ALMS: Pickett's Luhr and BMW's Hand take overall and GT poles
| | |
| --- | --- |
| By Gary Watkins | Friday, September 20th 2013, 20:39 GMT |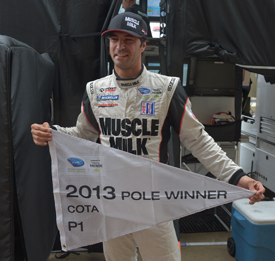 Lucas Luhr claimed pole position for Saturday's American Le Mans Series race at the wheel of the Pickett Racing HPD ARX-03c.
Luhr, who sealed the ALMS LMP1 title with team-mate Klaus Graf last time out in Baltimore, took pole in wet conditions by nearly three seconds from Marino Franchitti in the best of the Level 5 Motorsports HPD ARX-03b LMP2s.
The second fastest P1 car was the Dyson Racing Lola-Mazda B12/60 driven by Chris McMurry in fifth place behind the two Extreme Speed Motorsports P2 HPDs driven by Johannes van Overbeek and Anthony Lazzaro respectively.
Luhr said: "I did one timed lap and one slow lap to try to cool the tyres, and then did another fast one. It worked out pretty good."
GT honours went to Joey Hand, who was a late replacement for Maxime Martin in the #55 BMW Z4, in the best of the Rahal team's entries.
He claimed pole with his first flying lap to edge out Antonio Garcia's Chevrolet Corvette C6.R by just under three tenths of a second.
Renger van de Zande took his first pole with the DragonSpeed squad in the LMPC class for one-make ORECA-Chevrolet FLM09s, while Damien Faulker was fastest in the GTC Porsche division for The Racers Group.
Pos  Cl   Drivers                       Team/Car                   Time       Cl Gap
 1.  P1   Graf/Luhr                     Pickett HPD                2m07.851s
 2.  P1   Burgess/McMurry               Dyson Lola-Maza            2m12.837s  +4.986s
 3.  P1   Meyrick/Legge                 DeltaWing                  2m15.845s  +7.994s
 4.  P2   Tucker/Franchitti/Cosmo       Level 5 HPD                2m10.573s
 5.  P2   Brown/van Overbeek            Extreme Speed HPD          2m11.869s  +1.296s
 6.  P2   Sharp/Lazzaro                 Extreme Speed HPD          2m12.100s  +1.527s
 7.  P2   Tucker/Briscoe                Level HPD
 8.  PC   Schultis/van der Zande        DragonSpeed FLM            2m17.865s
 9.  PC   Dalziel/Pew                   Starworks FLM              2m18.929s  +1.064s
10.  PC   Marcelli/Cumming              BAR1 FLM                   2m19.782s  +1.917s
11.  PC   Junqueira/Heinemeier Hansson  RSR FLM                    2m20.018s  +2.153s
12.  PC   Bennett/Kimber-Smith          CORE FLM                   2m20.340s  +2.475s
13.  PC   Guasch/Cameron                PR1 MathiasenFLM           2m20.722s  +2.857s
14.  PC   Nunez/Shears                  Performance Tech FLM       2m20.935s  +3.070s
15.  PC   Mitchell/Drissi               BAR1 FLM                   2m22.438s  +4.573s
16.  GT   Auberlen/Hand                 RLL BMW                    2m17.178s
17.  GT   Magnussen/Garcia              Corvette                   2m17.442s  +0.264s
18.  GT   Gavin/Milner                  Corvette                   2m17.594s  +0.416s
19.  GT   Müller/Edwards                RLL BMW                    2m18.002s  +0.824s
20.  GT   Long/Braun                    CORE Porsche               2m19.167s  +1.989s
21.  GT   Bomarito/Wittmer              SRT Viper                  2m19.246s  +2.068s
22.  GT   Miller/Holzer                 Miller Porsche             2m19.462s  +2.284s
23.  GT   Beretta/Malucelli             Risi Ferrari               2m19.834s  +2.656s
24.  GT   Farnbacher/Goossens           SRT Viper                  2m20.088s  +2.910s
25.  GT   Henzler/Sellers               Falken Porsche             2m21.134s  +3.956s
26.  GT   Sweedler/Bell                 AJR/West Ferrari           2m21.704s  +4.526s
27.  GTC  Keating/Faulkner              TRG Porsche                2m27.816s
28.  GTC  Cisneros/Edwards              NGT Porsche                2m27.880s  +0.064s
29.  GTC  MacNeil/Bleekemolen           Alex Job Porsche           2m27.920s  +0.104s
30.  GTC  Dempsey/Lally                 Dempsey Del Piero Porsche  2m28.533s  +0.717s
31.  GTC  Neiman/von Moltke             Flying Lizard Porsche      2m28.618s  +0.802s
32.  GTC  Hedlund/Heylen                JDX Porsche                2m28.692s  +0.876s
33.  GTC  Canache/Pumpelly              Flying Lizard Porsche      2m29.353s  +1.537s