WRC Australia: row brewing over time gaps on dusty roads
| | |
| --- | --- |
| By David Evans | Thursday, September 12th 2013, 04:24 GMT |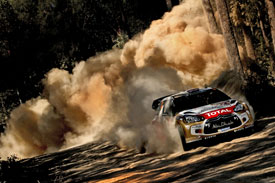 A storm is brewing between World Rally Championship drivers and Rally Australia organisers over time gaps and visibility ahead of the start of the Coffs Harbour event.
The drivers are demanding a three-minute gap between the cars on the New South Wales gravel roads on safety grounds.
But the organisers are claiming this would cost them the historic rally that runs as part of the support package.
Citroen driver Kris Meeke said: "This isn't a commercial thing or anything like that, it's a safety thing - pure and simple.
"We have to have three minutes between the cars, we're risking our lives out there. And it's not just a safety thing for us, either, it's for the spectators."
M-Sport's Mads Ostberg backed the qualifying stage winner up.
"If the rain comes then it won't be a problem, but right now it's difficult," he said.
"It's not just the dust, it's the sun, it comes through the trees and makes like a wall that you can't see through. If it's cloudy then it's better because you usually get some more wind with the cloud.
"If it stays at two minutes then it will be very, very difficult. We have pushed them very hard, but they seem to being strict about this."
Rally Australia officials are considering increasing the current two-minute gap by a further minute, but one event insider said: "We only have so much time for this event to pass through the public roads; once our road closures are up, we have to open the road again - that's the law.
"If we give three minutes to the World Rally Car drivers, then we will lose one of our support events straight away. And let's not forget, it's the support events which help to make Australia's round of the world championship viable."