| | |
| --- | --- |
| Valentino Rossi questions Sachsenring safety | |
| | |
| --- | --- |
| By Toby Moody and Sam Tremayne | Monday, July 15th 2013, 10:37 GMT |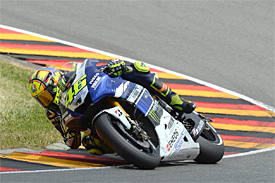 Valentino Rossi has questioned the safety of the Sachsenring layout following a spate of heavy crashes during the MotoGP weekend.
Championship protagonists Jorge Lorenzo and Dani Pedrosa were both forced to sit out Sunday's race as a result of injuries sustained in horrible highsides during practice.
Andrea Dovizioso, Nicky Hayden, Cal Crutchlow, Andrea Iannone and Bryan Staring were among a list of other riders to fall, with the sixth-gear right-hander of Turn 11 the chief area for incidents.
Rossi admitted it was impossible to ignore the magnitude and frequency of such crashes, particularly when they were localised at a section of track the Italian believes is "very dangerous."
Asked by AUTOSPORT if the crashes weighed on his approach, Rossi said: "Yeah - every crash, you are more scared.
"For me that corner [Turn 11] is very dangerous. It is very fast, going downhill, and you are coming from seven or eight left turns, so the right part of the tyre is cool.
"That corner you have to arrive at the right speed lap by lap, practice by practice - you cannot just arrive, bang.
"In the morning I started to push, but then you get yellow flags for the crash of Iannone.
"Also with the crash of Cal, I don't expect because it's my bike.
"I think that with a Yamaha it is more difficult to crash there, but Cal crashed, so it's scary."
Rossi added that Lorenzo's shunt, which came at the exit of Turn 10, was also dangerous because his bike had slid down the hill and was unsighted as Rossi approached.
"I was very lucky that I slowed down," Rossi explained, "because if not I arrive with the bike in the centre of the track, so it's very dangerous.
"I don't know which way we can improve the situation."
AUTOSPORT SAYS
Toby Moody, @TobyMoody
Turn 11 is a mad corner: a blind entry, a drop steeper than Paddock Hill. As someone said on Twitter, it's like Eau Rouge in reverse.
People have always fallen off there. Perhaps most famous is Carlos Checa's 120mph tumble back in the 990cc days, which turned the asphalt red as the colour wore off his works Ducati leathers.
This year though, criticism of the 'Waterfall' seems to have reached a new level.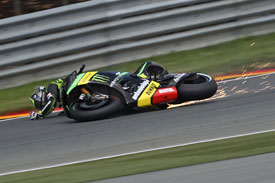 Quite why people are calling for changes to the track is rather puzzling. Dani Pedrosa and Jorge Lorenzo didn't start the grand prix due to injury, but neither man actually fell at that turn. Cal Crutchlow, who suffered the biggest injuries crashing at Turn 11, was also carrying knocks from other falls and yet still managed to finish second.
Moreover, in warm-up and races across all classes, not one rider crashed at Turn 11.
There were a total of 61 crashes last weekend - less than the 63 we saw at the Sachsenring in 2009, and significantly less than the 71 falls at Jerez in 2011, or the 130 at Estoril in 2010. We still returned to race successfully at those circuits without modification.
Last year, the first with 1000s, it was wet in FP2, FP3 and qualifying, when the guys really wanted to hang it out. As was the case this year, the warm-up was dry and no one fell. Full tanks weighing the front down just that bit more maybe?
So what has changed? Maybe it's that the last time the MotoGP guys went really quickly through the Waterfall was on their 800cc bikes, when the machines were 10kg lighter. Now they have more power, more torque and a different generation of tyres that are a bit softer than the 800cc spec ones, to unweight the front a touch.
Crutchlow admitted his crash at the Waterfall had come after sitting at the end of pitlane waiting for the red light to go out, meaning his tyres had cooled. The Ducatis fell there because...well, I'll let you work that one out.
The guys trying to help the Nordschleife have a tag line "Save The Ring". Let's hope we don't have to use that for the Sachsenring.