F3 Masters: Felix Rosenqvist fastest in Friday practice
| | |
| --- | --- |
| By Gary Watkins | Friday, July 5th 2013, 17:54 GMT |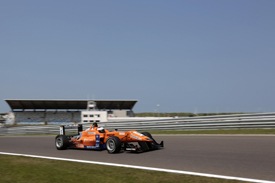 Felix Rosenqvist kicked off his bid to become only the second driver to win the Masters of Formula 3 at Zandvoort on two occasions by topping the times in practice.
The 2011 Masters winner set the fastest time over the two free practice sessions on Friday aboard his Mercedes-engined Mucke Dallara F312.
His opening session time of 1m31.989s was more than a tenth up on Carlin driver Jordan King's second-fastest time of the day, which was also set in the morning.
Lucas Auer topped the times in the slower, afternoon session in his Prema Dallara-Mercedes on a 1m32.157s, which stood as the third fastest time of the day.
Team-mate Alex Lynn was second fastest, nearly three tenths behind, with Rosenqvist third another three tenths back.
Practice one:

Pos  Driver              Team/Car                        Time       Gap
 1.  Felix Rosenqvist    Mucke Dallara-Merc              1m31.989s
 2.  Jordan King         Carlin Dallara-VW               1m32.153s  +0.164s
 3.  Harry Tincknell     Carlin Dallara-VW               1m32.221s  +0.232s
 4.  Emil Bernstorff     Prema Dallara-Merc              1m32.227s  +0.238s
 5.  Lucas Auer          Prema Dallara-Merc              1m32.270s  +0.281s
 6.  Alex Lynn           Prema Dallara-Merc              1m32.357s  +0.368s
 7.  Pipo Derani         Fortec Dallara-Merc             1m32.407s  +0.418s
 8.  Tom Blomqvist       Eurointernational Dallara-Merc  1m32.452s  +0.463s
 9.  Michael Lewis       Mucke Dallara-Merc              1m32.458s  +0.469s
10.  Sven Muller         Ma-con Dallara-VW               1m32.526s  +0.537s
11.  Nicholas Latifi     Carlin Dallara-VW               1m32.584s  +0.595s
12.  Will Buller         Fortec Dallara-Merc             1m32.879s  +0.890s
13.  Roy Nissany         Mucke Dallara-Merc              1m32.914s  +0.925s
14.  Dennis van de Laar  Van Amersfoort Dallara-VW       1m32.924s  +0.935s
15.  Eddie Cheever       Prema Dallara-Merc              1m32.947s  +0.958s
16.  Antonio Giovinazzi  Double R Dallara-Merc           1m32.994s  +1.005s
17.  Josh Hill           Carlin Dallara-Merc             1m33.085s  +1.096s
18.  Spike Goddard       T-Sport Dallara-Nissan          1m33.164s  +1.175s
19.  Jann Mardenborough  Carlin Dallara-VW               1m33.714s  +1.725s
20.  Andre Rudersdorf    Ma-con Dallara-VW               1m33.875s  +1.886s
21.  Yuhi Sekiguchi      Mucke Dallara-Merc              1m33.913s  +1.924s
22.  Sandro Zeller       Zeller Dallara-Merc             1m34.654s  +2.665s
23.  Tatiana Calderon    Double R Dallara-Merc           1m34.911s  +2.922s
24.  Sean Gelael         Double R Dallara-Merc           1m35.278s  +3.289s

Practice two:

Pos  Driver              Team/Car                        Time       Gap
 1.  Lucas Auer          Prema Dallara-Merc              1m32.157s
 2.  Alex Lynn           Prema Dallara-Merc              1m32.451s  +0.294s
 3.  Felix Rosenqvist    Mucke Dallara-Merc              1m32.733s  +0.576s
 4.  Tom Blomqvist       Eurointernational Dallara-Merc  1m32.855s  +0.698s
 5.  Emil Bernstorff     Prema Dallara-Merc              1m32.885s  +0.728s
 6.  Harry Tincknell     Carlin Dallara-VW               1m32.957s  +0.800s
 7.  Nicholas Latifi     Carlin Dallara-VW               1m33.058s  +0.901s
 8.  Eddie Cheever       Prema Dallara-Merc              1m33.068s  +0.911s
 9.  Pipo Derani         Fortec Dallara-Merc             1m33.128s  +0.971s
10.  Dennis van de Laar  Van Amersfoort Dallara-VW       1m33.234s  +1.077s
11.  Sven Muller         Ma-con Dallara-VW               1m33.259s  +1.102s
12.  Jordan King         Carlin Dallara-VW               1m33.393s  +1.236s
13.  Andre Rudersdorf    Ma-con Dallara-VW               1m33.426s  +1.269s
14.  Antonio Giovinazzi  Double R Dallara-Merc           1m33.494s  +1.337s
15.  Will Buller         Fortec Dallara-Merc             1m33.640s  +1.483s
16.  Jann Mardenborough  Carlin Dallara-VW               1m33.788s  +1.631s
17.  Sean Gelael         Double R Dallara-Merc           1m33.837s  +1.680s
18.  Spike Goddard       T-Sport Dallara-Nissan          1m34.076s  +1.919s
19.  Tatiana Calderon    Double R Dallara-Merc           1m34.257s  +2.100s
20.  Yuhi Sekiguchi      Mucke Dallara-Merc              1m34.275s  +2.118s
21.  Michael Lewis       Mucke Dallara-Merc              1m34.292s  +2.135s
22.  Josh Hill           Fortec Dallara-Merc             1m34.498s  +2.341s
23.  Sandro Zeller       Zeller Dallara-Merc             1m34.674s  +2.517s
24.  Roy Nissany         Mucke Dallara-Merc              1m34.915s  +2.758s