Mercedes says FIA's Formula 1 testing clampdown is much needed
| | |
| --- | --- |
| By Jonathan Noble | Wednesday, June 26th 2013, 09:09 GMT |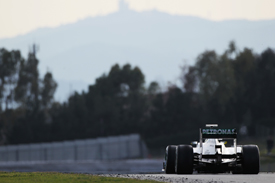 Mercedes team principal Ross Brawn has faith that the FIA will get a better grip on policing Formula 1 testing in the future, after suggesting matters have got out of control in recent years.
In the wake of Mercedes being handed a reprimand and young driver test ban for using a 2013 car for a Pirelli test, motor racing's governing body declared that it wanted to strengthen its control on testing.
Brawn has welcomed the move, as he reckons a number of teams have pushed the boundaries of exploiting testing loopholes amid the tough restrictions that have been in place.
He cited suggestions that some squads conducted the permitted private filming days at proper test facilities rather than the nearest circuit.
"The FIA are now looking at the whole issue, and not just this particular issue," Brawn told AUTOSPORT.
"Teams have been doing filming days at Idiada - can you explain that one to me?
"The whole issue of testing has slipped over the years and now needs correcting, and we all need to have a clear picture for the benefit of everyone.
"The FIA will take this opportunity to rebase all the testing and other activities that teams do, although next year will be a little easier than at the moment as it is anticipated there will be organised full test days."
BRAWN: ISSUE NOT JUST TRACK TESTING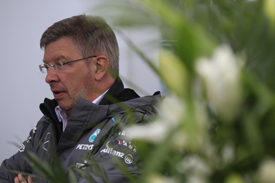 The FIA's World Motor Sport Council is expected to vote through a proposal later this week approving the return of in-season testing in 2014, with four two-day tests scheduled to take place in the week after some European races.
Brawn believes that the FIA's clampdown on track testing should also extend to other areas, including windtunnel testing.
"The FIA will spend a lot more time looking at these areas, as they are an area of activity away from an event that needs to have scrutiny and checking – as do other things coming under the FIA remit like aerodynamic testing.
"The FIA will structure itself to make sure it is satisfied everyone has a level playing field."