Pirelli says tyre tests with F1 teams will continue despite row
| | |
| --- | --- |
| By Edd Straw | Friday, May 31st 2013, 13:15 GMT |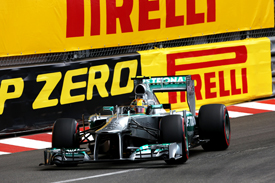 Pirelli plans to conduct further testing on its 2014 Formula 1 rubber with teams despite the controversy over its running with Mercedes at Barcelona after the Spanish Grand Prix.
The Italian company's motorsport boss Paul Hembery stressed that developing rubber for next year was the main focus of the contentious test.
But he did also confirm that some running was done using the modified Kevlar belt construction that will be tested in free practice in next week's Canadian Grand Prix, albeit not with the same compounds.
He stressed the need to be able to test in machinery more representative of current cars.
"We envisage other tests during the year looking at 2014 and we certainly will be hoping to have other tests with teams who are willing to perform that," he said.
"We were already in discussion with a number and maybe some others will become available as we move forward because the change in 2014 is very dramatic.
"We saw some initial data from some teams [about the 2014 cars] and it was very clear to us that we would have to make very dramatic changes, hence the need to start testing new concepts and new developments."
Hembery added that Pirelli did not demand that Mercedes use the actual 2013 car for the test.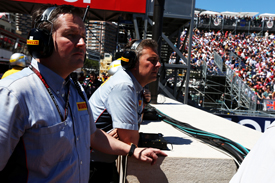 He also said that he believed that Mercedes had discussed which car would be used with the FIA.
"It has been suggested in some quarters that we asked for a 2013 car; that's not true," he said.
"We asked for a representative car.
"Our understanding was the there was good discussion between Mercedes and the FIA on this subject."
Hembery also hinted that creating a mechanism for it to test with relevant cars is necessary for it to agree to stay in F1 next year.
"This situation confirms a need that we have talked about to have representative testing in F1," said Hembery.
"If we are going to remain in 2014, this becomes even more important with the weight of changes that are going to happen.
"Testing should be performed in relevant conditions, with relevant cars at relevant circuits with relevant drivers and weather.
"We would encourage in-season testing because that allows you to make changes during the season in a qualified way and that's something that would give us great benefit, particularly in light of the dramatic changes that we are going to see in the sport next year."
PIRELLI: TEST NOT SECRET
Hembery also railed against claims that the test, which took place at Barcelona, was held in secret.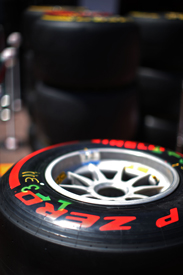 Rival teams were furious that they had not been informed and only found out about it during the Monaco Grand Prix weekend.
But Hembery insists that it was transparent.
"Some people have described the test as secret," said Hembery.
"Well, I don't think we are going to win any James Bond prizes because we booked the circuit in our name two days after a Formula 1 race, we turned up in our trucks dressed as Pirelli people with a brightly coloured Mercedes car in a circuit like Barcelona where when you hear an F1 car, the fans turn up and take photos.
"That clearly wasn't the case, or we would be very bad spies from that point of view."
ANOTHER TEAM HAS TESTED
Hembery confirmed that another tyre test had also been conducted with another team.
This is believed to be Ferrari, using an old-specification car as widely believed to be permitted by the F1 sporting regulations.
But Hembery claimed the details of this test could not be disclosed.
"Yes, we have done with another test, another 1000kms," said Hembery, when asked if any such tests have been conducted.
"That [the details] remain confidential, but the FIA were informed as they were with the Mercedes test."