IndyCar aims for record Indianapolis speeds by opening up rules
| | |
| --- | --- |
| By Pablo Elizalde | Friday, May 24th 2013, 11:12 GMT |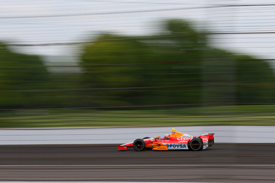 IndyCar is planning rule changes that could result in breaking the speed record at Indianapolis, while continuing with its efforts to improve safety in the sport.
IndyCar officials met on Thursday ahead of this weekend's Indianapolis 500 and announced they "will open the door to increased technical innovation" with the current car with the goal of managing increases in speed.
Arie Luyendyk still holds the record for the fastest lap at Indianapolis, despite having set it 17 years ago.
"We've achieved a great car platform, so now we can move forward to explore what's next," said Mark Miles, CEO of IndyCar and Indianapolis parent firm Hulman & Co.
"By managing improvements in certain components, speeds will gradually increase, and we could break the Indianapolis Motor Speedway track record by our 100th running in 2016."
Luyendyk set the track record of 237.498 mph in 1996. This year's pole position lap was a 228.762 mph.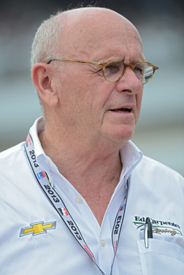 IndyCar's new president of competition Derrick Walker said the first "substantive announcement", likely to involve aero kits, will be made soon.
"In the short term, we'll look for incremental changes to our cars through components such as aerodynamics, horsepower and tyres," Walker said.
"In a way, we're going back to the future. IndyCars have always been about innovation and speed, and our goal is to open the door for that again.
"We'll start with our current car platform and give our teams and suppliers more ability to affect how they race.
"We always have to be mindful of costs, but that doesn't mean we can't manage improvements to create more exciting racing and at the same time do it safely."