Sebastien Loeb drives Peugeot 208 T16 Pikes Peak up Mont Ventoux
| | |
| --- | --- |
| By David Evans | Thursday, May 16th 2013, 12:43 GMT |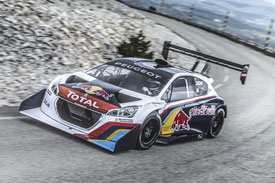 Sebastien Loeb has completed the first meaningful test of Peugeot's 208 T16 Pikes Peak in the South of France this week.
The Frenchman drove the 208 to the top of Mont Ventoux in south-east France.
While the 1912-metre summit of the Provence mountain is still almost 1000 metres short of the Pikes Peak Hill Climb start (the Colorado course finishes at 4301 metres), the roads to the top were all asphalt and similar terrain to what awaits Loeb in America on June 30.
Loeb said it had been instructive to drive the car in anger and on the kind of roads it was designed for, but admitted there was still work to be done on the 208.
"Driving it on a real road is a very useful pointer because that is what awaits us at Pikes Peak," he explained.
"Its handling is extremely responsive, but I'm still not quite able to place it as precisely as I would like. That's something we will need to work on a little more."
There will be further tests in France, before the car is shipped to America at the end of May.
Once Stateside, Peugeot Sport will have just over three weeks to fettle the car ready for the June 30 finale of a week's Pikes Peak practice.
Joining Loeb in Provence was the 208 T16 Pikes Peak's predecessor, the 405 T16 which was driven for promotional purposes by Gregory Guilvert, the man responsible for much of the 208's early running.