Aston Martin plans factory entry for Spa 24 Hours
| | |
| --- | --- |
| By Gary Watkins | Monday, May 13th 2013, 13:03 GMT |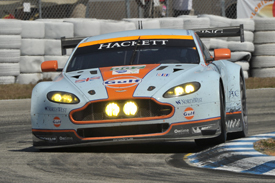 Aston Martin Racing is planning to field a factory entry in the Spa 24 Hours in July.
AMR is finalising a deal to join forces with the Belgian GPR Racing squad to mount an attack on the blue-riband round of the Blancpain Endurance Series on July 27/28 with a solo Vantage V12 GT3.
The car would be raced by a driver line-up picked from AMR's World Endurance Championship roster and jointly run under the Aston Martin Brussels banner by the factory and GPR, which is a class winner in the GT Open International series this year.
AMR team principal John Gaw said: "We want AMR to be involved in all the big GT3 endurance races, which means Spa as well as Dubai and the Nurburgring 24-hour events.
"We want a strong car at Spa with all pro drivers and so do Aston Martin Brussels [who backed GPR in the event last year], but it is not 100 per cent done yet."
Gaw said that long-time Aston driver Darren Turner would be one of the three drivers in the car.
Factory driver Stefan Mucke has been confirmed in the AMR-run Beechdean Vantage V12 for Spa alongside Jonny Adam, Daniel McKenzie and Andrew Howard.
Adam, who was designated a AMR Young Driver alongside McKenzie in February, will be one of two nominated reserves for Aston at the Le Mans 24 Hours in June.
The Briton will take part in the test day on June 9 along with Kiwi Richie Stanaway, who raced for AMR in the Spa World Endurance Championship round earlier this month. As rookies, both need to undertake 10 laps at the test in order to race should they be required.
Gaw said: "With five cars and 15 drivers, we need a couple of reserves. If we didn't and one of our drivers had a problem, we'd be completely stuffed."
Adam is scheduled to drive the #98 Aston Martin Vantage GTE alongside Bruno Senna, Frederic Makowiecki and Rob Bell, and Stanaway the #99 entry he raced at Spa.