Chinese GP: Jenson Button sure tyre tactics bode well for McLaren
| | |
| --- | --- |
| By Kevin Turner | Saturday, April 13th 2013, 08:58 GMT |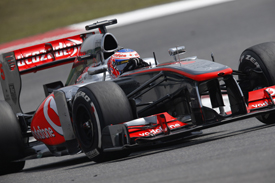 Jenson Button believes the decision to qualify on the harder tyre has given him and McLaren the best chance possible for the Chinese Grand Prix.
While the frontrunners opted to use the fast-but-fragile soft-compound Pirelli in Q3, Button completed one slow lap on the medium.
Red Bull's Sebastian Vettel and the Sauber of Nico Hulkenberg did not complete laps, which means Button will line up eighth. All three are likely to start on the medium tyre, which is expected to be the better race rubber.
"It was the right decision," said Button. "To be seventh in Q2 was a big surprise for us. We don't really have the pace of the frontrunning cars, but I think we got everything out of that lap.
"We knew we weren't going to get any further up the grid so we went for the prime [medium tyre] approach. We did a pretty slow lap to look after the tyres and that should put us in good stead for the race tomorrow.
"Hopefully we can get a good start and at some point we should find some clear air in front of us."
Button believes the soft runners, led by Lewis Hamilton's Mercedes, will hit tyre issues very early in the race.
"It's going to be cooler tomorrow, so we're going to see the graining we saw in practice on high fuel," he said. "They are going to struggle with that at the start of the race.
"That bodes well for us and it should be interesting for the fans."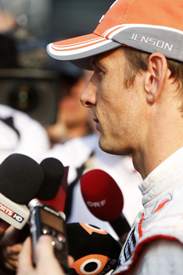 Button nevertheless played down his chances of taking victory and tipped Vettel to make better progress.
"To win the race is going to be very difficult for us," he said. "If we thought we were quick enough to challenge at the front, maybe we would have gone for the soft tyre.
"We've got a long way to go still. It's great we've got the parts on the car since the last race. But you always want more and we're still not competitive enough.
"We've made a small gain, but it's not as big as what we would hope. At least we understand what's going on with the car and where we need to go with it.
"We have a very fast car behind us [Vettel] and he's starting on slightly newer tyres.
"I think he's really the guy who is going to challenge at the front for the win."
AUTOSPORT Chinese GP coverage:

FP1

FP2

FP3

Qualifying

Race

Gallery

Live commentary

Official quotes