GP3 testing: David Fumanelli fastest at Silverstone
| | |
| --- | --- |
| By Pablo Elizalde | Thursday, April 4th 2013, 15:42 GMT |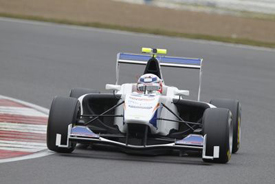 David Fumanelli topped the times on the second and final day of GP3 testing at the Silverstone circuit.
The Trident driver posted a best time of 1m45.213s in the morning session.
The benchmark showed how much faster the new GP3 car is, as the lap was nearly five seconds quicker than the best time set last year at the track.
Fumanelli's best was also a full second faster than what Tio Ellinas had managed on the opening day of the test. The Manor driver finished on top in Thursday's afternoon session, but his quickest lap was around half a second off Fumanelli.
On another very cold day at the British venue, Facu Regalia was third fastest in the ART car, with Jenzer's Alex Fontana and MW Arden driver Carlos Sainz completing the top five.
The session was interrupted three times, twice after red flags caused by Bamboo's Carmen Jorda, and once by Adderly Fong in the Status car.
Jenzer Motorsport's Samin Gomez was forced to miss the test due to illness.
The GP3 season will kick off at the Barcelona circuit on May 11.

Morning session
Pos Driver                     Team        Time       Gap      Laps
 1. David Fumanelli            Trident     1m45.213s            24
 2. Facu Regalia               ART         1m45.855s  + 0.642s  25
 3. Alex Fontana               Jenzer      1m46.040s  + 0.827s  31
 4. Carlos Sainz Jr            MW Arden    1m46.107s  + 0.894s  25
 5. Dino Zamparelli            Manor       1m46.157s  + 0.944s  27
 6. Aaro Vainio                Koiranen    1m46.226s  + 1.013s  24
 7. Melville McKee             Bamboo      1m46.262s  + 1.049s  16
 8. Tio Ellinas                Manor       1m46.281s  + 1.068s  21
 9. Giovanni Venturini         Trident     1m46.282s  + 1.069s  23
10. Nick Cassidy               Manor       1m46.336s  + 1.123s  31
11. Jack Harvey                ART         1m46.350s  + 1.137s  28
12. Robert Visoiu              MW Arden    1m46.399s  + 1.186s  36
13. Patrick Kujala             Koiranen    1m46.406s  + 1.193s  19
14. Conor Daly                 ART         1m46.437s  + 1.224s  25
15. Nick Yelloly               Carlin      1m46.468s  + 1.255s  20
16. Felipe Guimaraes           Bamboo      1m46.526s  + 1.313s  32
17. Daniil Kvyat               MW Arden    1m46.539s  + 1.326s  20
18. Patric Niederhauser        Jenzer      1m46.888s  + 1.675s  35
19. Emanuele Zonzini           Trident     1m47.039s  + 1.826s  33
20. Kevin Korjus               Koiranen    1m47.312s  + 2.099s  11
21. Eric Lichtenstein          Carlin      1m47.388s  + 2.175s  23
22. Luis Sa Silva              Carlin      1m47.869s  + 2.656s  18
23. Josh Webster               Status      1m48.380s  + 3.167s  21
24. Jimmy Eriksson             Status      1m48.754s  + 3.541s  22
25. Adderly Fong               Status      1m49.760s  + 4.547s  15
26. Carmen Jorda               Bamboo      1m50.519s  + 5.306s  17
Afternoon session
Pos Driver                     Team        Time       Gap      Laps
 1. Tio Ellinas                Manor       1m45.821s            20
 2. Facu Regalia               ART         1m46.194s  + 0.373s  33
 3. Jack Harvey                ART         1m46.266s  + 0.445s  34
 4. Conor Daly                 ART         1m46.407s  + 0.586s  28
 5. Giovanni Venturini         Trident     1m46.440s  + 0.619s  37
 6. Nick Cassidy               Manor       1m46.476s  + 0.655s  21
 7. Nick Yelloly               Carlin      1m46.483s  + 0.662s  32
 8. Aaro Vainio                Koiranen    1m46.496s  + 0.675s  15
 9. Dino Zamparelli            Manor       1m46.543s  + 0.722s  18
10. Kevin Korjus               Koiranen    1m46.650s  + 0.829s  14
11. Patric Niederhauser        Jenzer      1m46.876s  + 1.055s  27
12. Josh Webster               Status      1m47.004s  + 1.183s  22
13. Adderly Fong               Status      1m47.056s  + 1.235s  23
14. Emanuele Zonzini           Trident     1m47.109s  + 1.288s  37
15. Felipe Guimaraes           Bamboo      1m47.385s  + 1.564s  30
16. Daniil Kvyat               MW Arden    1m47.480s  + 1.659s  24
17. Carlos Sainz Jr            MW Arden    1m47.514s  + 1.693s  24
18. Jimmy Eriksson             Status      1m47.629s  + 1.808s  36
19. Luis Sa Silva              Carlin      1m48.036s  + 2.215s  31
20. Robert Visoiu              MW Arden    1m48.115s  + 2.294s  20
21. Eric Lichtenstein          Carlin      1m48.234s  + 2.413s  44
22. Melville McKee             Bamboo      1m48.276s  + 2.455s  23
23. David Fumanelli            Trident     1m48.731s  + 2.910s  24
24. Patrick Kujala             Koiranen    1m48.918s  + 3.097s  18
25. Carmen Jorda               Bamboo      1m50.540s  + 4.719s  21