Philippe Dumas to return to racing in Le Mans 24 Hours
| | |
| --- | --- |
| By Gary Watkins | Wednesday, March 27th 2013, 15:13 GMT |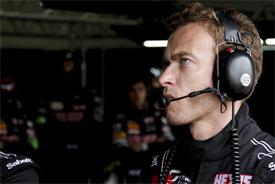 The boss of former FIA GT1 World Championship frontrunner Hexis Racing will make his Le Mans 24 Hours debut in June, 10 years after calling time on his racing career.
Frenchman Philippe Dumas, who has continued to race sporadically since taking over the reigns of Hexis Racing for the 2004 season, will drive a Larbre Competition Chevrolet Corvette C6.R in the GTE Am class at Le Mans in June.
The 33-year-old will share the car with Le Mans regular Manuel Rodrigues, who raced with Hexis in French GTs and the FIA GT3 European Championship in 2005-08, and American Cooper MacNeil, a class winner at the Sebring 12 Hours earlier this month.
Dumas said: "I have a long-term relationship with Manu [Rodrigues] going back many years and every season I have helped him find a drive for Le Mans.
"He asked me again this year and then we discussed a little more, and he said, 'Why don't you drive with me?'" I'm lucky that he is paying for me to drive."
The deal for Dumas to race at Le Mans will also involve him bringing four or five Hexis mechanics and an engineer to work on the second Larbre Corvette.
Dumas said the arrangement would be good experience for his team ahead of the Spa 24 Hours blue-riband round of the Blancpain Endurance Series, on which Hexis is focussing this year with its pair of McLaren MP4-12Cs, and for a possible Le Mans campaign in the future.
Dumas raced with Hexis in French Formula Renault in 2002-03 before moving into a management role with the team, which he then took into GT racing in 2005.
Dumas contested one race last year, in the VdeV Group CN prototype series, and last raced internationally in the opening GT1 World event in 2010 at Abu Dhabi when one of the Hexis team's drivers pulled out of the event at the last minute.
Hexis went on to claim the GT1 World teams' title with Aston Martin in 2011 and won more races than any other squad in last year's series with McLaren.
Portuguese Pedro Lamy was originally listed in the second Larbre Corvette and looks likely to race the fifth Aston Martin Vantage GTE at Le Mans.