Megatron to enter Porsche Supercup in 2013
| | |
| --- | --- |
| By Gary Watkins | Friday, March 22nd 2013, 11:45 GMT |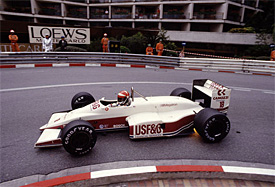 The US Megatron organisation that badged the BMW turbo engines run by the Arrows grand prix team in 1987-88 is returning to the Formula 1 bill in the Porsche Supercup this season.
The logistics company has joined forces with another iconic motorsport name, steering and road wheel manufacturer Momo, to form the Momo-Megatron team for an assault on the one-make F1 support series.
The new team, which will run under the US flag, will run two of Porsche's new 991-shape 911 GT3 Cup cars and has been put together by former Zakspeed technical director and Project Indy team owner Andreas Leberle to run out of workshops in Luxembourg.
Leberle explained that the new team had resulted from a desire of Megatron boss John B Schimdt Jr, who father John J Schimdt was behind the Arrows/BMW deal in the 1980s, to take the Megatron name back into motorsport.
"John supported me back in my IndyCar days in the 1990 and we sat around a table and talked about what we could do next," said the Leberle. "Supercup makes sense because we wanted to be involved in the F1 environment."
Schmidt added: "Racing has always provided us with a unique platform to showcase our products and services firsthand in a working and competitively-charged environment. We are looking forward to continuing that tradition in 2013 with our entries in the Porsche Mobil 1 Supercup Series."
Momo-Megatron has brought in experienced Supercup driver Alessandro Zampedri to lead its attack in 2013, while the second car will be driven by Dutch Supercar graduate and Blancpain Endurance Series driver Jochen Habets.
Zampedri will be unavailable for two races and will be replaced by Belgian Endurance Series champion winner Dylan Derdaele.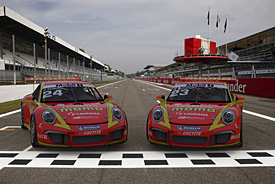 The team aims to have an American driver in the long-term. Momo back a seven-car squad in the IMSA GT3 Cup Challenge, the US equivalent of the Porsche Carrera Cup GB, run by the NGT Motorsports squad.
A GTC class Audi R8 LMS has been entered under the Momo-Megatron DF1 banner in European Le Mans Series.
Megatron, a subsidiary of Arrows title sponsor USF&G, took over the BMW turbo project when the German manufacturer withdrew from F1 at the end of 1986.
It badged the 1.5-litre turbo powerplants, which were rebuilt and serviced by Swiss engine specialist Heini Mader