Sebring 12 Hours: #1 crew wins thrilling all-Audi victory battle
| | |
| --- | --- |
| By Gary Watkins | Sunday, March 17th 2013, 05:08 GMT |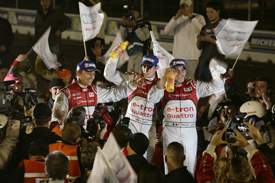 Audi claimed its 11th victory in the Sebring 12 Hours at the end of a thrilling race between its R18 e-tron quattros.
Benoit Treluyer, Marcel Fassler and Oliver Jarvis claimed victory in the opening round of the American Le Mans Series by just under eight seconds over the sister car shared by Allan McNish, Tom Kristensen and Lucas di Grassi.
The two Audi LMP1 turbodiesels swapped positions throughout the 12 Hours before the winning car moved to the front in the penultimate hour and Treluyer was able to hold off a challenge from Kristensen.
Jarvis, who was racing at Sebring for the first time, said: "I felt privileged to be asked to drive here and even more privileged to win.
"For much of the race the two cars were never separated by much more than 10 seconds. I can promise you that we fought hard and there were no team orders."
The Rebellion Racing Lola-Toyota B12/60 shared by Neel Jani, Nick Heidfeld and Nicolas Prost finished third as the best of the P1 privateers.
The Anglo-Swiss team's lead car did not have the pace of the Muscle Milk Pickett Racing HPD ARX-03c, but two dubious 60s stop-go penalties and a lost wheel meant that Klaus Graf, Lucas Luhr and Romain Dumas could only finish fourth.
The Level 5 Motorsports squad finished one-two in the LMP2 class with its pair of HPD ARX-03b, team boss Scott Tucker, Ryan Briscoe and Marino Franchitti heading the sister car driven by Tucker, Ryan Hunter-Reay and Simon Pagenaud.
The GT class provided the best action of the 61st running of the Sebring 12 Hours, the lead Chevrolet Corvette C6.R of Oliver Gavin, Tommy Milner Jr and Richard Westbrook snatching the victory from the Risi Competizione Ferrari 458 Italia with just 14 minutes to go.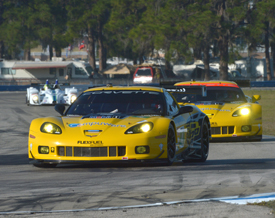 The Chevrolet was the fastest car in class, but it twice had to fight back from a lap down to secure the victory.
A dashboard short circuit that knocked out the dashboard and the rear lights cost the car nearly two laps in the middle of the race. The crew returned to the front only for Westbrook to receive another dubious penalty after contact with a slower car.
Milner took over the car for the run to the flag with what appeared to be an irretrievable deficit to the Ferrari shared by Oliver Beretta, Matteo Malucelli and Gianmaria Bruni.
Bruni looked as though he would be able to maintain a gap to the Chevrolet, but a back problem meant Risi was force to replace him with Sebring debutant Malucelli for the final stint.
The Italian lost time in traffic early on and finally relinquished the lead when he went off in the closing stages.
Results - 364 laps:

Pos  Cl   Drivers                          Team/Car                    Time/Gap
 1.  P1   Fassler/Treluyer/Jarvis          Joest Audi             12h00m11.638s
 2.  P1   di Grassi/Kristensen/McNish      Joest Audi                  + 7.679s
 3.  P1   Prost/Heidfeld/Jani              Rebellion Lola-Toyota       + 5 laps
 4.  P1   Graf/Luhr/Dumas                  Pickett HPD                 + 6 laps
 5.  P1   Beche/Cheng/Belicchi             Rebellion Lola-Toyota      + 10 laps
 6.  P2   Tucker/Franchitti/Briscoe        Level 5 HPD                + 18 laps
 7.  P2   Tucker/Hunter-Reay/Pagena        Level 5 HPD                + 19 laps
 8.  P2   Kimber-Smith/Zugel/Lux           Greaves Zytek-Nissan       + 22 laps
 9.  PC   Cheng/Guasch/Ostella             PR1 Mathiasen FLM          + 28 laps
10.  PC   Marcelli/Cumming/Johansso        BAR1 FLM                   + 28 laps
11.  PC   Nunez/Shears/Heinemeier Hansson  Performance Tech FLM       + 29 laps
12.  PC   Junqueira/Popow/Ende             RSR FLM                    + 29 laps
13.  P2   Brown/van Overbeek/Lazzaro       Extreme Speed HPD          + 29 laps
14.  PC   Bennett/Braun/Wilkins            CORE FLM                   + 30 laps
15.  GT   Gavin/Milner/Westbrook           Corvette                   + 31 laps
16.  GT   Bruni/Beretta/Malucelli          Risi Ferrari               + 31 laps
17.  GT   Henzler/Sellers/Tandy            Falken Porsche             + 32 laps
18.  GT   Auberlen/Martin/Muller           RLL BMW                    + 34 laps
19.  GT   Dalziel/Farnbacher/Goossens      SRT Viper                  + 35 laps
20.  GT   Miller/Holzer/Lietz              Miller Porsche             + 35 laps
21.  PC   Drissi/Mitchell/Ducote           BAR1 FLM                   + 38 laps
22.  GT   Muller/Hand/Edwards              RLL BMW                    + 43 laps
23.  GT   Turner/Mucke/Senna               Aston Martin               + 46 laps
24.  GTC  MacNeil/Bleekemolen/von Moltke   Alex Job Porsche           + 49 laps
25.  GTC  Canache/Pumpelly/Wong            Flying Lizard Porsche      + 49 laps
26.  GTC  Cisneros/Seefried/Edwards        NGT Porsche                + 50 laps
27.  GTC  Hedlund/Heylen/Fogarty           JDX Porsche                + 50 laps
28.  GTC  Keating/Faulkner/Stanton         TRG Porsche               + 51 laps*
29.  GTC  Dempsey/Lally/Foster             Dempsey Porsche            + 53 laps
30.  GTC  Avenatti/Davis/Faieta            Dempsey Porsche            + 53 laps
31.  GTC  Calvert-Jones/Curran/Aschenbach  Competition Porsche        + 55 laps
32.  GTC  Ehret/Imperatori/Sandberg        Flying Lizard Porsche      + 55 laps
33.  GT   Dalla Lana/Johnson/Lamy          Aston Martin               + 57 laps
34.  GT   Bomarito/Kendall/Wittmer         SRT Viper                  + 61 laps
35.  GTC  Gomez/Farnbacher/Giermaziak      NGT Porsche                + 63 laps
36.  PC   Schultis/Simon/Kaffer            DragonSpeed FLM            + 78 laps
37.  P2   Sharp/Cosmo/Brabham              Extreme Speed HPD          + 83 laps
38.  GTC  Carter/Estre/de Quesada          TRG Porsche                + 95 laps
* Not running at finish

Retirements:

     GT   Magnussen/Garcia/Taylor          Corvette                    213 laps
     GT   Sweedler/Bell/Keen               AJR/West Ferrari            209 laps
     P1   Dyson/Smith/Leitzinger           Dyson Lola-Mazda             81 laps
     P1   Meyrick/Pla                      DeltaWing                    10 laps