FR3.5 testing: Stoffel Vandoorne edges out Antonio Felix da Costa
| | |
| --- | --- |
| By Glenn Freeman | Friday, March 8th 2013, 21:09 GMT |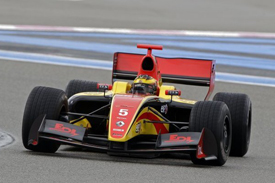 New McLaren junior Stoffel Vandoorne continued his strong start to pre-season testing in Formula Renault 3.5 by topping the first day of running at Paul Ricard.
The reigning Formula Renault Eurocup champion, who topped the first day at Aragon last week before the rest of that test was cancelled due to snow, knocked Red Bull protege Antonio Felix da Costa off the top of the times at the end of the day.
Da Costa had led the way for much of the test, setting the pace in the wet morning session before trading blows at the head of the field with Kevin Magnussen when the track dried.
The Portuguese driver continued to set the pace when most of the field took new tyres in the final hour, but he was pipped to top spot in the dying moments as Vandoorne went fastest for Fortec.
"I didn't expect to be first," said the Belgian. "Obviously I was looking to put down a time but as soon as I went out on new tyres there was a red flag.
"The car performs well in qualifying conditions, and tomorrow I'll be using a race set-up more often."
By the end of the day 14 drivers had beaten Jules Bianchi's qualifying record from 2012.
Behind the top two, Will Stevens and Marco Sorensen were next up, followed by Draco team-mates Nico Muller and Andre Negrao.
Magnussen slipped to seventh by the end, just ahead of 2012 FR3.5 race winner Nick Yelloly, driving for Zeta Corse.
The Briton has already signed to race for Carlin in GP3 this year, but he returned to FR3.5 at Zeta's request as it wanted an experienced driver to help with its test programme.
Morning times:

Pos  Driver                  Team            Time       Gap        Laps
 1.  Antonio Felix da Costa  Arden Caterham  1m57.555s             30
 2.  Kevin Magnussen         DAMS            1m59.814s  + 2.259s   31
 3.  Sam Bird                ISR             2m00.954s  + 3.399s   32
 4.  Daniil Move             Comtec          2m01.383s  + 3.828s   19
 5.  Marco Sorensen          Lotus           2m01.920s  + 4.365s   34
 6.  Lucas Foresti           Comtec          2m02.154s  + 4.599s   31
 7.  Will Stevens            P1              2m02.199s  + 4.644s   39
 8.  Carlos Huertas          Carlin          2m02.529s  + 4.974s   29
 9.  Jazeman Jaafar          Carlin          2m02.700s  + 5.145s   47
10.  Pietro Fantin           Arden Caterham  2m03.065s  + 5.510s   42
11.  Nico Muller             Draco           2m03.105s  + 5.550s   37
12.  Andre Negrao            Draco           2m03.195s  + 5.640s   36
13.  Nikolay Martsenko       Pons            2m04.596s  + 7.041s   43
14.  Yann Cunha              AV              2m04.790s  + 7.235s   46
15.  Oliver Webb             Fortec          2m04.913s  + 7.358s   31
16.  Sergey Sirotkin         ISR             2m04.976s  + 7.421s   37
17.  Mikhail Aleshin         Tech 1          2m05.200s  + 7.645s   30
18.  Nigel Melker            Tech 1          2m05.350s  + 7.795s   36
19.  Stoffel Vandoorne       Fortec          2m06.154s  + 8.599s   25
20.  Matias Laine            P1              2m06.337s  + 8.782s   41
21.  Mihai Marinescu         Zeta            2m07.220s  + 9.665s   24
22.  Norman Nato             DAMS            2m07.316s  + 9.761s   38
23.  Marlon Stockinger       Lotus           2m07.817s  + 10.262s  42
24.  Zoel Amberg             Pons            2m07.857s  + 10.302s  15
25.  Arthur Pic              AV              2m08.316s  + 10.761s  12
26.  Nick Yelloly            Zeta

Afternoon times

Pos  Driver                  Team            Time       Gap        Laps
 1.  Stoffel Vandoorne       Fortec          1m46.745s             25
 2.  Antonio Felix da Costa  Arden Caterham  1m46.773s  + 0.028s   34
 3.  Will Stevens            P1              1m46.943s  + 0.198s   28
 4.  Marco Sorensen          Lotus           1m46.979s  + 0.234s   18
 5.  Nico Muller             Draco           1m47.185s  + 0.440s   31
 6.  Andre Negrao            Draco           1m47.240s  + 0.495s   24
 7.  Kevin Magnussen         DAMS            1m47.281s  + 0.536s   27
 8.  Nick Yelloly            Zeta            1m47.584s  + 0.839s   30
 9.  Carlos Huertas          Carlin          1m47.684s  + 0.939s   26
10.  Nikolay Martsenko       Pons            1m47.705s  + 0.960s   42
11.  Lucas Foresti           Comtec          1m47.738s  + 0.993s   35
12.  Sergey Sirotkin         ISR             1m47.775s  + 1.030s   28
13.  Mikhail Aleshin         Tech 1          1m47.989s  + 1.244s   38
14.  Oliver Webb             Fortec          1m48.021s  + 1.276s   26
15.  Norman Nato             DAMS            1m48.127s  + 1.382s   30
16.  Zoel Amberg             Pons            1m48.178s  + 1.433s   24
17.  Daniil Move             Comtec          1m48.202s  + 1.457s   29
18.  Marlon Stockinger       Lotus           1m48.307s  + 1.562s   21
19.  Matias Laine            P1              1m48.372s  + 1.627s   21
20.  Pietro Fantin           Arden Caterham  1m48.439s  + 1.694s   36
21.  Jazeman Jaafar          Carlin          1m48.440s  + 1.695s   41
22.  Yann Cunha              AV              1m49.211s  + 2.466s   40
23.  Nigel Melker            Tech 1          1m49.703s  + 2.958s   16
24.  Sam Bird                ISR             1m49.778s  + 3.033s   8
25.  Mihai Marinescu         Zeta            1m50.220s  + 3.475s   29
26.  Arthur Pic              AV              1m59.888s  + 13.143s  4