NIKA Racing to step up to WTCC on full-time basis in 2013
| | |
| --- | --- |
| By Jamie O'Leary | Tuesday, March 5th 2013, 14:38 GMT |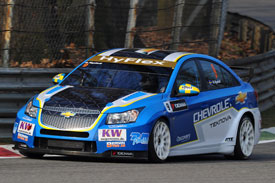 NIKA Racing will step up to the World Touring Car Championship on a full-time basis this year.
The Swedish squad, which has been a frontrunner in Scandinavian Touring Cars for a number of years as Chevrolet's official entry, will field a single Cruze 1.6T similar to the machines being run by RML and Bamboo-Engineering.
Team principal Nicklas Karlsson said: "This is a significant day in the history of NIKA Racing.
"We've been working towards a WTCC campaign for a number of years - mostly behind the scenes – and today's announcement marks the realisation of a long-time ambition.
"Following two highly successful seasons with Chevrolet back home in the STCC, we now feel ready to make this leap and to do battle with the very best of touring car racing.
"We are fully aware that this is going to be an exceptionally tough challenge and we head into this season in a very humble frame of mind, but our target is definitely to establish ourselves at this level in the longer term."
No driver has been confirmed for the project. Rickard Rydell, who won the 2011 STCC with NIKA, and also set a fastest lap for the team in a one-off WTCC appearance at Monza last March (see picture), confirmed recently that he would not race in 2013.
Stefan Lindberg, who ran NIKA's STCC programme last year, will act as sporting coordinator on the programme.
2013 WTCC line-up so far:

Team                 Car                  Driver(s)
Honda (JAS)          Honda Civic WTCC     Gabriele Tarquini/Tiago Monteiro
Zengo Motorsport     Honda Civic WTCC     Norbert Michelisz
Lada (Russian Bears) Lada Granta          James Thompson/Aleksei Dudukalo
Bamboo-Engineering   Chevrolet Cruze 1.6T James Nash/Alex MacDowall
ROAL Motorsport      BMW 320 TC           Tom Coronel/Darryl O'Young
Proteam Motorsport   BMW 320 TC           Mehdi Bennani/tba
Team Engstler        BMW 320 TC           Franz Engstler/Charles Ng
Wiechers Sport       BMW 320 TC           TBA
PB Motorsport        BMW 320 TC           Stefano D'Aste
Munnich Motorsport   SEAT Leon WTCC       Rob Huff/Marc Basseng/Rene Munnich
RML                  Chevrolet Cruze 1.6T Yvan Muller/Tom Chilton
Tuenti Racing        SEAT Leon WTCC       Pepe Oriola
Special Tuning       SEAT Leon WTCC       TBA/TBA
NIKA Racing          Chevrolet Cruze 1.6T TBA