Status GP and HVM to filed joint LMP2 entry in 2013 FIA WEC
| | |
| --- | --- |
| | Wednesday, December 5th 2012, 09:53 GMT |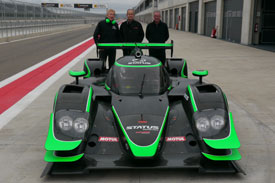 The Status GP team is teaming up with the HVM IndyCar squad to field a joint entry in the LMP2 class of the 2013 FIA World Endurance Championship.
The two teams, which will run under the HVM Status GP banner, plan to run a Lola-Judd/BMW B12/80 in the full WEC, which includes the Le Mans 24 Hours in June.
HVM Status is close to finalising drivers for the car and expects to announce more details early next year.
Status team principal Teddy Yip Jr, whose team raced in the European Le Mans Series in its first year in sportscars in 2012, said: "For the step up to a full-time FIA WEC programme our combined strengths create a very strong platform for technical personnel, resources and contacts with drivers and sponsors in both Europe and the USA."
HVM boss Keith Wiggins, who formerly ran the Pacific Formula 1 team of 1994-95, said: "We made a decision to expand our interests into sportscars for next year, and once we looked at the WEC programme, it was obvious we needed a European base.
"Then we started a dialogue with my old friends at Status and it quickly became a partnership both parties wanted and embraced."
Wiggins did not rule out Indianapolis-based HVM continuing in the IndyCar Series in 2013 should the finance be found.
The team ran Simone da Silvestro in a Lotus-engined Dallara DW12 this year.