Brazilian GP: Vettel not focused on Alonso's position for the race
| | |
| --- | --- |
| By Dan Cross and Matt Beer | Saturday, November 24th 2012, 17:33 GMT |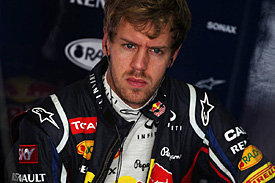 Sebastian Vettel said his main focus after Brazilian Grand Prix qualifying was on figuring out where he had lost time in Q3 rather than on being four places clear of Formula 1 championship rival Fernando Alonso.
Vettel and Alonso will start fourth and eighth respectively. Those positions make Alonso's task of overturning a 13-point deficit look tough.
But asked if the championship situation was the biggest thing on his mind, Vettel replied: "Not too much. I've just come out of qualifying knowing I could have done a little bit better. I'm keen to go back now and look at the data and see where I wasn't quick enough."
Vettel had been fastest in Q2 before making a mistake on his first Q3 lap and then missing pole by 0.302 seconds on his second. His team-mate Mark Webber took third behind the McLarens.
"Q3 was not 100 per cent perfect. Q2 was quite good for us," said Vettel.
"The first run in Q3 was not good for me as I did a mistake going into Turn 4.
"The second run I was pretty happy with it but it wasn't quick enough."
But he remains confident he will be a factor at the front in the race.
"Obviously Mark was a bit quicker, but I think we are in good shape and we've competitive all weekend," Vettel said.
Alonso's team-mate Felipe Massa starts just one place behind Vettel in fifth, but the Red Bull insisted this did not bother him in the slightest.
"There are always going to be cars around you," Vettel said. "It would be boring if it were just me on the grid. I think that's pretty normal. We have mirrors on the car but we try not to use them too much."
CHAMPIONSHIP PERMUTATIONS
VETTEL WINS THE TITLE IF:
- He finishes in the top four
- He finishes fifth, sixth or seventh and Alonso doesn't win
- He finishes eighth or ninth and Alonso is third or lower
- He finishes 10th or worse and Alonso isn't on the podium
ALONSO WINS THE TITLE IF:
- He wins and Vettel is fifth or lower
- He is second and Vettel eighth or lower
- He is third and Vettel is 10th or lower