BMW: Defending DTM title will take very hard work
| | |
| --- | --- |
| By Jamie O'Leary | Thursday, October 25th 2012, 13:51 GMT |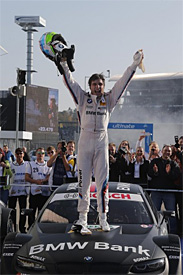 BMW will have to work harder than ever before to defend its DTM titles next year, according to the manufacturer's motorsport director Jens Marquardt.
The Munich manufacturer this year competed in the series for the first time since 1992 and stunned the establishment by guiding Bruno Spengler to the drivers' title with four wins during the season.
With Augusto Farfus taking the Rookie of the Year prize and Schnitzer Motorsport and BMW taking the teams' and manufacturers' awards, BMW won every possible award in the championship.
Marquardt believes that the whitewash will have the effect of place a target on the back of all eight M3s that will compete next year.
He said that every step must be taken during the winter to ensure BMW stays ahead.
"We will be defending champions next year, which is the nicest situation we could wish to be in. That is exactly why we enter these sporting contests," Marquardt said.
"We are happy to take on this role, although we must show the necessary respect and humility.
"Sport will always be sport: with two strong rivals like Audi and Mercedes-Benz, you can never rest on your laurels, but must work hard to remain competitive in the long-term.
"We will prepare very conscientiously for next season."
The 2013 deadline for the homologation of parts passed on October 15, meaning that BMW, Audi and Mercedes will all head into the winter unable to change any of the components they use on their cars.
This means that teams will all be fighting for small gains before the new season gets underway at Hockenheim next May.
Additionally, BMW is introducing a fourth team - MTEK - and has the task of bringing it up to speed during testing.
"The winter will be hard work - after all, we will have a fourth team and two more cars with the addition of BMW Team MTEK.
"As you can see, there is plenty of reason for us to look forward to next year. One thing is certain, however: it will not be possible to repeat this kind of historical success – winning the title in our comeback year."