Petit Le Mans: Rebellion dominates, Pickett champions
| | |
| --- | --- |
| | Sunday, October 21st 2012, 02:01 GMT |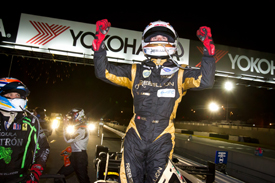 Neel Jani, Nicolas Prost and Andrea Belicchi handed Rebellion's Lola-Toyota a dominant victory at this year's Petit Le Mans.
The World Endurance Championship's top privateer team was a wildcard entry in the American Le Mans Series season finale, but after scoring pole position ended up controlling the race as the series regulars hit difficulties.
Lucas Luhr in the ALMS points-leading Pickett HPD had matched Jani over the opening stint, the pair running nose to tail while rapidly pulling away from the rest of the field.
He was undone however when he tangled with Peter LeSaffre's Green Hornet Porsche, the resulting damage causing the team to lose more than an hour for repairs.
Dyson meanwhile was off the pace of the front pair even before intermittent electrical and fuel issues from the third hour scuppered its race.
Chris Dyson eventually brought the car home in 32nd, two spots ahead of title rival Klaus Graf.
34th on the road was still enough to earn Luhr and Graf the 2012 ALMS title.
The LMP2 title, which similarly came down to Petit, was claimed by Level 5, which also ran out class winner following a dramatic close to the race.
Having swapped positions multiple times with Level 5, title rival Conquest seemed set for class honours, even if the championship was out of reach.
A late puncture was followed by a stop and go penalty for speeding in the pitlane however, handing the advantage to Level 5 with just 14 laps to run.
Victory simultaneously marked Level 5's third straight class win at Petit and third consecutive ALMS crown.
GT honours were claimed by the #01 Extreme Speed Ferrari after a tight battle with the #3 Corvette.
Both cars were able to complete the race making just nine stops, and were separated by just 30s at the flag.
Early delays for the BMWs effectively put them out of contention for victory, but they did fight back to finish third and fourth, with the #55 M3 sealing the final step on the podium.
The #30 NGT Motorsport squad earned a one-lap victory in the GTC class, while CORE Autosport powered to a two-lap win in LMPC.
The Nissan DeltaWing meanwhile finished fifth on the road, three laps down on the LMP2 winners.
Results - 394 laps:

Pos Cl     Drivers                         Team/Car                     Time/Gap
 1. P1     Belicchi/Jani/Prost             Rebellion Lola-Toyota    9h37m43.578s
 2. P2     Tucker/Bouchut/Diaz             Level 5 HPD                  + 3 laps
 3. P2     Tucker/Franchitti/Franchitti    Level 5 HPD                  + 4 laps
 4. P2     Beche/Thiriet/Tinseau           TDS ORECA-Nissan             + 4 laps
 5. UNC    Ordonez/Jeannette               Highcroft DeltaWing-Nissan   + 6 laps
 6. PC     Popow/Dalziel/Wilkins           CORE FLM                     + 9 laps
 7. P2     Nicolet/Baguette/Pla            OAK Morgan-Nissan           + 11 laps
 8. PC     Junqueira/Drissi/Vera           RSR FLM                     + 11 laps
 9. PC     Junco/Dobson/Julian             PR1 Mathiasen FLM           + 12 laps
10. PC     Bennett/Braun/Gonzalez          CORE FLM                    + 13 laps
11. PC     Marcelli/Downs/Ducote           Merchant FLM                + 18 laps
12. GT     Sharp/van Overbeek/Vilander     Extreme Speed Ferrari       + 19 laps
13. GT     Magnussen/Garcia/Taylor         Corvette                    + 19 laps
14. GT     Muller/Auberlen/Summerton       RLL BMW                     + 20 laps
15. GT     Muller/Alzen/Summerton          RLL BMW                     + 21 laps
16. GT     Bergmeister/Long/Pilet          Flying Lizard Porsche       + 21 laps
17. GT     Henzler/Sellers/Ragginger       Falken Porsche              + 22 laps
18. PC     Richard/Ende/Lewis              Dempsey FLM                 + 22 laps
19. GT     Neiman/Holzer/Tandy             Flying Lizard Porsche       + 25 laps
20. GT     Wittmer/Farnbacher/Hunter-Reay  SRT Viper                   + 25 laps
21. GT     Brown/Cosmo/Lazzaro             Extreme Speed Ferrari       + 26 laps
22. GT     Miller/Maassen/Lietz            Miller Porsche              + 27 laps
23. GTE-Am Pons/Narac/Armindo              Imsa Porsche                + 31 laps
24. GT     Sweedler/Bell/Mowlem            Alex Job Lotus              + 34 laps
25. GTC    Cisneros/Farnbacher/Giermaziak  NGT Porsche                 + 38 laps
26. GTC    Di Guida/Pumpelly/Canache       TRG Porsche                 + 43 laps
27. GTC    Collard/Gutierrez/Hedlund       TRG Porsche                 + 43 laps
28. GTC    Cumming/Valiante/Johnston       JDX Porsche                 + 43 laps
29. GTC    MacNeil/Keen/von Moltke         Alex Job Porsche            + 45 laps*
30. GT     Gavin/Milner/Westbrook          Corvette                    + 46 laps
31. P1     Dyson/Smith/Kane                Dyson Lola-Mazda            + 56 laps
32. P2     Brundle/Buncombe/Kimber-Smith   Greaves Zytek-Nissan        + 56 laps
33. P1     Luhr/Graf/Dumas                 Pickett HPD                 + 60 laps
34. P2     Hartley/Hughes/Firth            Murphy ORECA-Nissan         + 64 laps*
35. P1     Burgess/Patterson/McMurry       Dyson Lola-Mazda            + 72 laps*
36. GTC    Benitez/Bullitt/Segal           NGT Porsche                 + 76 laps
37. GTC    Faieta/Avenatti/Calvert-Jones   Competition Porsche        + 127 laps*
38. GTE-AM Perazzini/Cioci/Griffin         AF Ferrari                 + 162 laps*
39. GT     Goossens/Kendall/Bomarito       SRT Viper                  + 170 laps*
40. P2     Dempsey/Foster/Cameron          Dempsey Lola-Judd          + 174 laps*

Retirements:

    GTC    LeSaffre/Faulkner/Wong          Green Hornet Porsche          40 laps
     
Disqualified:
   
    P2     Plowman/Heinemeier Hansson/Lux  Conquest Morgan-Nissan

* Not running at the end