Michael Schumacher needs improved Mercedes to go out on a high
| | |
| --- | --- |
| By Edd Straw and Glenn Freeman | Thursday, October 11th 2012, 10:01 GMT |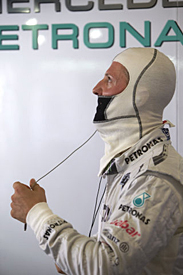 Michael Schumacher believes Mercedes will need to improve 'significantly' if he is to land another top result before he retires from Formula 1 at the end of the season.

The seven-time world champion took the only podium finish since his comeback at Valencia earlier this year, while Nico Rosberg won the Chinese Grand Prix just five races before that.

However, Mercedes has scored just 44 points in the races since Schumacher's 155th podium, and the 43-year-old has not finished higher than sixth during that time.

"It all depends on whether we can significantly improve our car or not," Schumacher said of his hopes of scoring another big result in 2012.

"Where we have been [in recent races], we know that it needs quite a bit of luck, and we cannot only base our results on luck.

"So we are still working on this car, and still hoping to improve it. But it depends on the rate we can do that."

Schumacher admitted that his mindset ahead of his second retirement from Formula 1 was "very different" compared to when he was preparing to stop in 2006.

"That time, 2006, I was still fighting for the championship," he said. "It finished two races from the end when I retired in Suzuka.

"I don't think I am close to that, yet! So the mindset is quite different, yes."

He added that he hopes the layout of the Korean circuit will enable Mercedes to fight for places in Q3, after the team had a Saturday to forget at Suzuka a week ago.

"In terms of the characteristics of the track, here our package should be reasonably OK," he said.

"I don't know exactly what that means but I hope it means we can be in the top 10 for qualifying and we'll see from there on.

"If you look at the pace we had in the race [in Japan], that wasn't too bad. We didn't look great in qualifying, but in the race my fastest lap wasn't that far off the fastest laps from the leaders."