Vallelunga Superstars: Johan Kristoffersson heads Audi grid lock-out
| | |
| --- | --- |
| By Andrew van Leeuwen | Saturday, October 6th 2012, 16:29 GMT |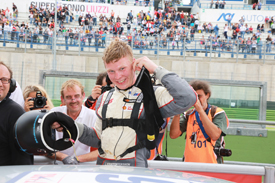 Johan Kristoffersson will start Sunday's first International Superstars Series race at Vallelunga from pole position, as Audi continued to dominate in Rome.
It took the KMS Audi driver just seven minutes to set the tone of the half-hour qualifying session, his best of 1m40.039 enduring a 23-minute stint at the top to earn the Swede pole position.
The only genuine challenger was Audi Sport Italia's Gianni Morbidelli, but even the veteran could not topple Kristoffersson's time.
Morbidelli ultimately settled for second, more than three tenths adrift of pole.
Thomas Schoffler completed the Audi lock-out with third in the MTM entry, although his margin to the rest of the field was less comfortable.
A spirited battle for fourth between Tonio Liuzzi (CAAL Racing Mercedes) and Thomas Biagi (Dinamic BMW) saw the pair dip into the 1m40s bracket for the first time all weekend.
In the end Liuzzi took the second row spot, less than three hundredths behind Schoffler and exactly two tenths clear of Biagi.
Francesco Sini backed up his solid practice pace in the Solaris Chevrolet with the sixth fastest time, ahead of Dinamic BMW pairing Max Mugelli and Giovanni Berton.
Despite logging a maximum speed almost 20km/h faster than the polesitter, Camilo Zurcher (Romeo Ferraris Mercedes) could manage just ninth fastest, one place clear of guest driver Giancarlo Fisichella in the Swiss Team Maserati.
Pos  Driver                Team/Car           Time       Gap
 1.  Johan Kristoffersson  KMS Audi           1m40.039s
 2.  Gianni Morbidelli     Audi Italia        1m40.363s  + 0.324s
 3.  Thomas Schoffler      MTM Audi           1m40.645s  + 0.606s
 4.  Tonio Liuzzi          CAAL Mercedes      1m40.670s  + 0.631s
 5.  Thomas Biagi          Dinamic BMW        1m40.870s  + 0.831s
 6.  Francesco Sini        Polaris Chevrolet  1m40.977s  + 0.938s
 7.  Max Mugelli           Dinamic BMW        1m40.987s  + 0.948s
 8.  Giovanni Berton       Dinamic BMW        1m41.275s  + 1.236s
 9.  Camilo Zurcher        Romeo Mercedes     1m41.398s  + 1.359s
10.  Giancarlo Fisichella  Swiss Maserati     1m41.415s  + 1.376s
11.  Nico Caldarola        Roma Mercedes      1m41.638s  + 1.599s
12.  Paolo Meloni          W&D BMW            1m41.699s  + 1.660s
13.  Mauro Cesari          Swiss Maserati     1m41.708s  + 1.669s
14.  Andrea Larini         Romeo Mercedes     1m41.943s  + 1.904s
15.  Domenico Ferlito      Ferlito Jaguar     1m41.964s  + 1.925s
16.  Max Pigoli            Ferlito Jaguar     1m42.021s  + 1.982s
17.  Andrea Bacci          CAAL Mercedes      1m42.305s  + 2.266s
18.  Michele Faccin        MRT Lexus          1m43.544s  + 3.505s
19.  Walter Meloni         W&D BMW            1m43.600s  + 3.561s
20.  Francesco Ascani      Todi BMW           1m43.947s  + 3.908s
21.  Gianni Giudici        Giudici BMW        1m44.729s  + 4.690s