Talladega NASCAR: Dale Earnhardt Jr, Jeff Gordon ready to take risks
| | |
| --- | --- |
| By Diego Mejia | Saturday, October 6th 2012, 01:56 GMT |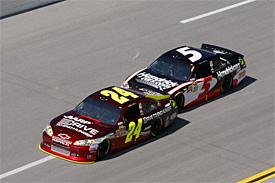 Multiple Talladega winners Dale Earnhardt Jr and Jeff Gordon say they will race aggressively in Sunday's NASCAR Sprint Cup round to try and make gains in the championship race.
The Hendrick Motorsports pair, who have won 11 races at the restrictor-plate track between them, see Sunday's Chase event as an opportunity make ground in the championship as both currently lag behind their Hendrick team-mates in the standings.
Gordon, a six-time winner at Talladega and the most successful restrictor-plate driver in the Cup field, says he is excited by the prospect of racing for a seventh victory at the venue.
In three restrictor-plate races this season, Gordon has a best finish of 12th at Daytona in July.
"I'm excited about this week," said Gordon. "That's the first time I can say that in a long time coming into a Talladega race because for us it's not about racing for points, it's about racing for a win and being aggressive. I feel like at the end it's just finding somebody you can connect with to get into victory lane.
"I feel like from our team, the homework they've done and the research they are doing and improvements they've made to the car as well as just looking at video, and talking to my spotter, I'm excited about the fact that we can come in here and not be looking at a conservative approach.
"I think that can get you in just as much trouble as being aggressive."
Earnhardt, whose legendary father Dale senior won 10 times at Talladega, is currently seventh in the points and already 39 points behind Chase leader Brad Keselowski.
A five-time Talladega winner, Earnhardt says he is ready to take some risks on Sunday in his aim to get back in close championship contention.
"We can't be conservative at all," said Earnhardt. "We've really got to take a lot of risks. With just a few races left and as good as everybody is running, like Brad and Jimmie [Johnson] and the #11 [Denny Hamlin], we really have to get pretty aggressive and that should play right into this race track's hands.
"It's a place that really kind of asks for that and you've got to really take some risks and be pretty daring out there to make some things happen."