F3 Euro Series Valencia: Juncadella and Marciello secure poles
| | |
| --- | --- |
| By Jamie O'Leary | Friday, September 28th 2012, 14:57 GMT |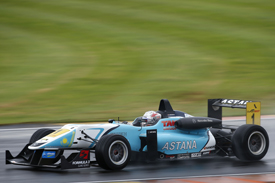 Daniel Juncadella and Raffaele Marciello continued their fight for the F3 Euro Series crown by taking a pole position each for this weekend's races at Valencia.
The Prema Powerteam duo were constant factors in the fight to set the pace during the final five minutes of the session as Mucke Motorsport's Felix Rosenqvist also got involved in the fight.
The session had started with a damp track surface and each driver on wet tyres, but conditions had improved enough by the halfway point to cause the frontrunners to make an instant switch to slicks.
Marciello was the first driver to dip under 1m29s and assumed the top spot with a time of 1m28.504s with three minutes to go.
But not only did Juncadella beat it with 1m28.300 to secure his fifth pole of the year, but Rosenqvist also knocked the Italian back to third spot on the grid for race three.
Marciello's second-best time, however, was better than those of his rivals, meaning that he will start Saturday's opening race from pole, with Rosenqvist alongside him and Juncadella on the second row.
Carlos Sainz Jr, who is skipping the British F3 finale to compete at Valencia, was fourth fastest overall and will start Saturday's opener from fifth spot. Tom Blomqvist took sixth and fourth spots for Ma-con.
Wehrlein was fifth fastest overall, but did his title hopes no good by spinning into the gravel in the final lap and bringing out the red flags. That left him only ninth on the grid for race one.
Sven Muller's second-fastest time was enough to put him sixth on the grid for race one, but he will drop five places because of the penalty the German is carrying over from the last round at Zandvoort.
The last of the realistic title contenders, Carlin's Will Buller, continued his inconsistent qualifying form and will start sixth and ninth.
Luis Sa Silva brought out the red flags early in the session when he crashed at Turn 4 and ripped the left-front wheel off his Angola Dallara-Mercedes.

Grid for race three

Pos  Driver                Car                         Time             
 1.  Daniel Juncadella     Prema Dallara-Mercedes      1m28.300s
 2.  Felix Rosenqvist      Mucke Dallara-Mercedes      1m28.419s  + 0.119
 3.  Raffaele Marciello    Prema Dallara-Mercedes      1m28.504s  + 0.204
 4.  Carlos Sainz Jr       Carlin Dallara-Volkswagen   1m28.578s  + 0.278
 5.  Pascal Wehrlein       Mucke Dallara-Mercedes      1m28.853s  + 0.553
 6.  Tom Blomqvist         Ma-con Dallara-Volkswagen   1m29.013s  + 0.713
 7.  Emil Bernstorff       Ma-con Dallara-Volkswagen   1m29.557s  + 1.257
 8.  Sven Muller           Prema Dallara-Mercedes      1m29.579s  + 1.279
 9.  Will Buller           Carlin Dallara-Volkswagen   1m29.665s  + 1.365
10.  Andrea Roda           Zeller Dallara-Mercedes     1m30.081s  + 1.781
11.  Michael Lewis         Prema Dallara-Mercedes      1m30.102s  + 1.802
12.  Lucas Wolf            URD Dallara-Mercedes        1m30.256s  + 1.956
13.  Sandro Zeller         Zeller Dallara-Mercedes     1m34.418s  + 6.118
14.  Luis Sa Silva         Angola Dallara-Mercedes     1m34.548s  + 6.248

Grid for race one
Pos  Driver                Car                   Time             
 1.  Raffaele Marciello    Prema Dallara-Mercedes      1m28.534s  
 2.  Felix Rosenqvist      Mucke Dallara-Mercedes      1m28.712s  + 0.178
 3.  Daniel Juncadella     Prema Dallara-Mercedes      1m28.977s  + 0.443
 4.  Tom Blomqvist         Ma-con Dallara-Volkswagen   1m29.024s  + 0.490
 5.  Carlos Sainz Jr       Carlin Dallara-Volkswagen   1m29.257s  + 0.723
 6.  Will Buller           Carlin Dallara-Volkswagen   1m29.695s  + 1.161
 7.  Emil Bernstorff       Ma-con Dallara-Volkswagen   1m29.910s  + 1.376
 8.  Pascal Wehrlein       Mucke Dallara-Mercedes      1m30.188s  + 1.654
 9.  Andrea Roda           Zeller Dallara-Mercedes     1m30.221s  + 1.687
10.  Michael Lewis         Prema Dallara-Mercedes      1m30.568s  + 2.034
11.  Sven Muller           Prema Dallara-Mercedes      1m29.620s  + 1.086
12.  Lucas Wolf            URD Dallara-Mercedes        1m31.132s  + 2.598
13.  Sandro Zeller         Zeller Dallara-Mercedes     1m35.002s  + 6.468
14.  Luis Sa Silva         Angola Dallara-Mercedes     1m38.036s  + 9.502