Sven Muller claims Zandvoort Formula 3 Euro Series poles
| | |
| --- | --- |
| By Jamie O'Leary | Friday, August 24th 2012, 16:08 GMT |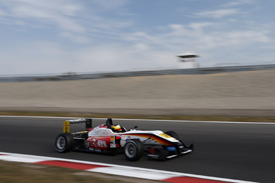 Sven Muller took his first two Formula 3 Euro Series pole positions with a superb performance in qualifying at Zandvoort on Friday.
The 20-year-old German had been in contention for the top spot all session, but eventually went fastest with a 1m30.320s lap with six minutes to go.
A late red flag thanks to a spin for Lucas Wolf at Hugenholzbocht prevented anybody else from getting enough heat into their tyres to challenge Muller's top spot, leaving him 0.049 seconds clear of fellow Prema Powerteam driver Raffaele Marciello on overall times.
While Marciello's result gives him second on the grid for race three on Sunday, he will start race one from fourth by virtue of having set a slower second-best lap than either Felix Rosenqvist or championship leader Daniel Juncadella.
Mucke driver Rosenqvist added third spot for race three alongside his front-row starting place for race one, while Juncadella will start race third and fourth.
Title contenders Pascal Wehrlein (Mucke) and Will Buller (Carlin) were not among the group challenging for pole. Buller took a pair of sevenths while Wehrlein was eighth and ninth.
Carlin driver Carlos Sainz Jr pre-empted Wolf's red flag by bringing out his own for a crash at the exit of the Audi S, while Rosenqvist stopped on track during the final minutes.
Grid for race one:

Pos  Driver               Team/Car                Time       Gap
 1.  Sven Muller          Prema Dallara-Merc      1m30.412s
 2.  Felix Rosenqvist     Mucke Dallara-Merc      1m30.441s  + 0.029s
 3.  Daniel Juncadella    Prema Dallara-Merc      1m30.529s  + 0.117s
 4.  Raffaelle Marciello  Prema Dallara-Merc      1m30.618s  + 0.206s
 5.  Michael Lewis        Prema Dallara-Merc      1m30.743s  + 0.331s
 6.  Tom Blomqvist        Ma-con Dallara-VW       1m30.793s  + 0.381s
 7.  Will Buller          Carlin Dallara-VW       1m30.947s  + 0.535s
 8.  Pascal Wehrlein      Mucke Dallara-Merc      1m30.952s  + 0.540s
 9.  Carlos Sainz Jr      Carlin Dallara-VW       1m30.977s  + 0.565s
10.  Emil Bernstorff      Ma-con Dallara-VW       1m31.081s  + 0.669s
11.  Andrea Roda          Jo Zeller Dallara-Merc  1m31.889s  + 1.477s
12.  Lucas Wolf           URD Dallara-Merc        1m31.927s  + 1.515s
13.  Luis Sa Silva        Angola Dallara-Merc     1m32.520s  + 2.108s
14.  Sandro Zeller        Jo Zeller Dallara-Merc  1m32.603s  + 2.191s

Grid for race three:

Pos  Driver               Team/Car                Time       Gap
 1.  Sven Muller          Prema Dallara-Merc      1m30.320s
 2.  Raffaelle Marciello  Prema Dallara-Merc      1m30.369s  + 0.049s
 3.  Felix Rosenqvist     Mucke Dallara-Merc      1m30.392s  + 0.072s
 4.  Daniel Juncadella    Prema Dallara-Merc      1m30.506s  + 0.186s
 5.  Michael Lewis        Prema Dallara-Merc      1m30.600s  + 0.280s
 6.  Tom Blomqvist        Ma-con Dallara-VW       1m30.728s  + 0.408s
 7.  Will Buller          Carlin Dallara-VW       1m30.746s  + 0.426s
 8.  Carlos Sainz Jr      Carlin Dallara-VW       1m30.773s  + 0.453s
 9.  Pascal Wehrlein      Mucke Dallara-Merc      1m30.805s  + 0.485s
10.  Emil Bernstorff      Ma-con Dallara-VW       1m30.987s  + 0.667s
11.  Lucas Wolf           URD Dallara-Merc        1m31.780s  + 1.460s
12.  Andrea Roda          Jo Zeller Dallara-Merc  1m31.873s  + 1.553s
13.  Luis Sa Silva        Angola Dallara-Merc     1m32.216s  + 1.896s
14.  Sandro Zeller        Jo Zeller Dallara-Merc  1m32.598s  + 2.278s